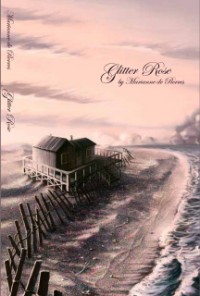 Some nice news bits this week beginning with the announcement that Glitter Rose will be in the World Fantasy Con bags in San Diego this month. Twelfth Planet Press have sent them across as their calling card! This is extremely cool.
Also, today is release day for Angel Arias. We've been doing giveaways on FB all week and its been fun. Thanks to those who joined in. Some reviews have popped up around the place, including Laine's Fiction Books Corner, Tassie Book Reviews, In The Good Books, ALPHA Reader and The Book Gryffin.
Around the Net, there are some bits and pieces as well. Brigitte Sutherland and I talked to Geek Speak Magazine about Peacemaker. Aura from Aura's Book Box has been our wonderful guest vlogger at Burn Bright talking about how she fell in love with reading. Like Priscilla from The Readables, Aura is eloquent and vibrant.
I'm heading down to Melbourne on Frdiay for SheKilda where I'll be on several panels and catching up with friends and bloggers. I'm also having a interview with Nalini from Dark Matter Fanzine – should be a great weekend.