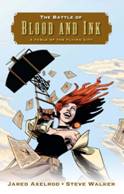 The Battle of Blood and Ink: A Fable of the Flying City by Jared Axelrod, Steve Walker (Illustrator)
Hardcover, 144 pages Published May 8th 2012 by Tom Doherty Associates (first published November 8th 2011) ISBN 0765331306 (ISBN13: 9780765331304)
If you're visiting the flying city of Amperstam without the latest printing of The Lurker's Guide, you might as well be lost. This one-sheet is written, edited, and printed by Ashe, a girl raised on the streets of the flying city, and is dedicated to revealing its hidden treasures and deepest secrets—including many that the overcontrolling government doesn't want anyone to know. The stakes are raised when Ashe accidentally uncovers the horror of exactly how Amperstam travels among the skies and garners the attention of those who would rather that secret be kept in the hands of the city's powerful leaders. Soon Ashe is on the run from thugs and assassins, faced with the choice of imperiling her life just to keep publishing, or giving in to the suggestion of a rich patron that she trade in her voice and identity for a quiet, comfortable life. It's a war of confusion for Ashe, but one thing is very clear: just because you live in a flying city, you can't always keep your head in the clouds.
Ashe and her friend Tolbin have a little one page paper that they disperse among the city. One day her journalistic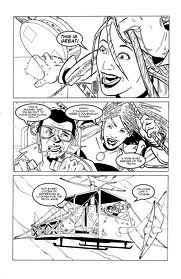 adventures lead her to find out how the city is able to fly. She struggles with the idea of letting the secret out or not, but the leader of the city, Provost knows that she has found out and is after her. This is where most of the excitement and action comes into the story. Ashe can really hold her own and is flawed, yet strong and really kicks butt.
The story is very fast paced, all black and white pictures with mostly bold black lines defining the characters and settings. Not very much shading at all and no colored pages. In the very beginning pages we get a sample of the paper that she puts out and it gives the reader a lot of details about characters, setting and world.
I loved Ashe, she's feisty and fierce. This was my first look into a steampunk graphic novel and the thought of a flying city really appealed to me.
After doing a little research online I found that Jared Axelrod also has a podcast that discusses this series and if you're interested to give it a listen here is the link to episode #1 from iTunes.
Jared Axelrod – Fables of the Flying City – http://itun.es/isJ9rQ #iTunes   and in which he introduces you to the website as well http://www.fablesoftheflyingcity.com/
I would suggest checking out the podcast and the websites first as they give a lot of background information, character info and world building.