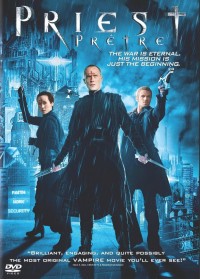 PRIEST (the movie) press release from Sony:
Australians crave an escape from tough economic times – to the land of supernatural Australians seek break from reality to world of vampires and the supernatural Priest is available on Blu-ray and DVD from 23rd December 2011.
Australians are increasingly seeking an escape from economic uncertainty through the consumption of supernatural films, TV shows and novels. Ahead of the launch of Priest on Blu-ray and DVD this week, supernatural expert Marianne de Pierres has examined Australia's vampire obsession.
Marianne de Pierres, one of Australia's most high profile science fiction writers, states "It's clear that Australians are seeking an escape from their daily lives, which at present are dominated by global economic uncertainty and political dissatisfaction. We are seeing an increasing preoccupation with the supernatural, with the last half of the year showing the highest rated viewing figures for filmsband TV shows such as The Vampire Diaries, Twilight, Being Human and True Blood'.
"This obsession with the supernatural can be attributed to a need and a desire to escape from daily life and into a world of power, death and the unfamiliar. As shown in the film Priest, the post apocalyptic world is dark and frightening; a place without joy and normality, providing us with the reassurance that even in a time of economic uncertainty, our life is not as bleak as the life lived by characters such as Priest."By its very nature, despite its dark imagery, post apocalyptic literature and film provide us with an uplifting experience. When emerging from the ruins of society and fighting for the survival of loved ones, post-apocalyptic tales remind us how important fighting for survival is.
Marianne's examination of the Australian obsession with the supernatural comes as the postapocalyptic thriller Priest is released on Blu-ray and DVD on December 23rd. Priest, a post-apocalyptic sci-fi thriller, is set in an alternate world – one ravaged by centuries of war between man and vampires. The film depicts the tale of Priest (Paul Bettany) who disobeys church law to track down the vampires who have kidnapped his niece, with the help of Priestess (Maggie Q).
The supernatural thriller Priest will be available on Blu-ray and DVD from all major retailers across Australia from 23 December 2011.