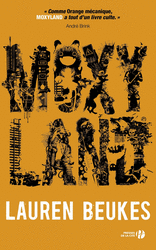 OK, so you've been wonderful helping me build my reading list. I now need to do some categorising. I'm looking to create a list of post 2000 female "cyberpunk-style" authors and to find a new term for them other than post-cyberpunk. Here are few ideas: motherpunk, femmepunk, sister-punk, femme-tek, femme-futures, femme-fuse.
So, before we get into the "isn't cyberpunk dead?" thing, I'll define what I'm looking for…
Post 2000 female science fiction authors who deal with themes of corporation vs community (not the individual), cyberspace and corporeality (post-humanism), future reproductive technologies and gender, and futurism, feminism and social change.
If you know an author from my list (or one I've missed) who writes about these themes, please leave me a comment, or discuss authors I've already placed here, and their fit. Your input will be TOTALLY invaluable!
Madeline Ashby – vN, iD
Elizabeth Bear – Hammered, Scardown, Worldwired; Dust, Grail, Chill
Lauren Beukes – Moxyland, Zoo City
Brook Bolander – And You shall Know her by the Trail of Dead (novelette)
Pat Cadigan – The Girl-Thing Who went out for Sushi, Dervish is Digital
Brenda Cooper – Edge of Dark. Hieroglyph
Nalo Hopkinson – Midnight Robber
Kameron Hurley – God's War, Infidel, and Rapture
Larissa Lai – Salt Fish Girl
Lyda Morehouse – Archangel Protocol series
Chris Moriarty – SPIN series
Linda Nagata – Limit of Vision
Jennifer Pelland – Machine
Justina Robson – Mappa Mundi
Stephanie Saulter  – Gemsigns
Tricia Sullivan – Maul, Double Vision, Sound Mind, Lightborn