"Don't need to shake my arse for you, 'cos I've got a brain" ~ Lily Allen, Hard Out Here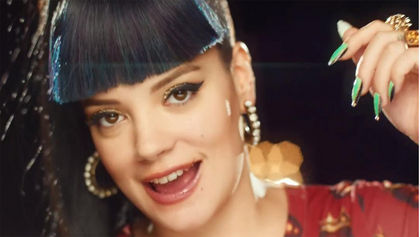 As this is my first blog on Music Vids, I thought I'd start with an fun and controversial clip. Lily Allen's, Hard Out Here is one slick production that manages to be sexy, funny, satirical, cheeky (literally) glamorous and relevant all in a 4 min 23 second breath.
Idolator describes the clip this way: Allen has always been one of the few pop stars who's capable of solid social satire without compromising her songcraft, and "Hard Out Here" doesn't disappoint to that end: It's a withering takedown of body image pressures and misogyny in the entertainment industry, making its point flawlessly with just a few choice lines and images. "Hard Out Here" is self-conscious and self-deprecating but stops just short of being caustic, built around an earworm of a chorus hook with typically smart, funny lyrics in the verses.
The controversy surrounding it was all tied up in cries of "racism" (because of the ethnicity of most of the back up dancers) and "class-ism". But I'm not venturing into that miasma of opinion because I don't for a moment believe that was either the intention or the outcome of the music video.
Lily Allen followed up the release with a statement to that effect: "If anyone thinks for a second that I requested specific ethnicities for the video, they're wrong… If anyone thinks that after asking the girls to audition, I was going to send any of them away because of the colour of their skin, they're wrong.The message is clear. Whilst I don't want to offend anyone. I do strive to provoke thought and conversation. The video is meant to be a light-hearted satirical video that deals with objectification of women within modern pop culture. It has nothing to do with race, at all."
Maybe I under-think everything, but personally, I thought the clip was both extremely clever and entertaining.The cry that Lily Allen has saved pop music, might be just a headline grab, but I do believe she's at least having a damn good go at it, and I enjoyed the song a lot more than Pink's Stupid Girls, which was in the same ball park–though even more blunt.
The Washington Posts's rather snide closing remark in their review, "Allen is righteously targeting the patriarchal double standards of 21st-century celebrity culture, but issues of race and class get tangled in the crossfire…The video for "Hard Out Here" drives that critique home with Allen scrubbing a sparkly hubcap in a kitchen sink and dancing alongside a fleet of jiggly twerkers. But as the blogeratti prepare 1,000 think pieces, give the video the close-your-eyes test. You'll hear a singer trying to spark a worthy discussion through a clumsy and bland pop song" kinda reeks of journalistic patriarchy and/or music snobbery.
Go get 'em Lily, I say!
Here is the video. Director — Christopher Sweeney (also directed Lana Del Rey's, Young and Beautiful) Producer — Amalia Rosen-Rawlings Pro. Co. — Good Egg:
Followed by the making of the video where you get Lily UNCUT and bare-faced:
Followed by a round table discussion on Pop Trigger
You make up your own mind!