Thanks to Greg who was waiting outside a Flaming Lips concert, Parrish caught herself an autograph!

Marianne de Pierres
Marianne is an author, blogger, writing educator and cake tragic.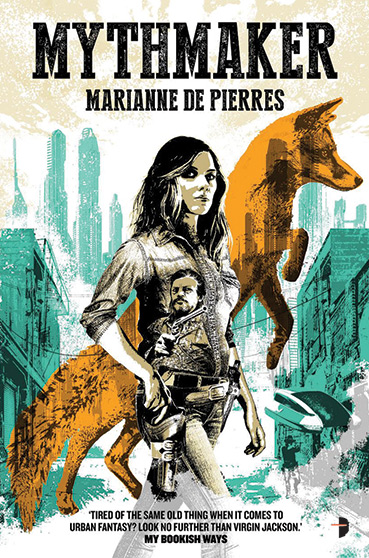 Hi there friends!
Thought I might pop in with some updates on various things.
Mythmaker release is drawing close (October 6th), and you can read an extract from the book over at CARABAS's blog. If you're signed up to NETGALLEY you can download a full review copy of the novel.
Meanwhile, aside from working on my Master's, I'm writing the next Tara Sharp novel. It's so much fun being back with her, Wal, Tozzi, Smitty, Bok, Ed, Cass and the gang. This time Tara is having a hard time keeping Garth Wilmot out of trouble, Henry's not speaking to her on account of the broken nose episode, and the guys in her life are proving high maintenance. The book will be released around October/November next year by Twelfth Planet Press.
You can read my letter to my teen self at DEAR TEEN ME, and a recent interview I did with Angela Slatter.
Here're a couple of upcoming workshops I'll be running. Speaking in Tongues: harnessing narrative voice for the QWC. Then in October, I'm running a Speculative Fiction Masterclass for the ACT Writers Centre.
And next weekend you can find me at COMIC CON. I'll have a stall to myself, so make sure you come past and say hello.
Lastly, and mostly, I'll be GOH at GENRECON in October. Please come to the con and celebrate Aussie genre fiction.
And after all that fun, I'm heading stateside to World Fantasy Con. Can't wait to see my long time friend Anne Bishop, and make some new acquaintances.
Best of all though I get to see my son play basketball for his college team in New York — the St Thomas Aquinas College Spartans.
Life is a blessing!

So my patient readers, here is Joey HiFi's new cover for MYTHMAKER (PEACEMAKER 2). I think it's pretty damn splendid. I almost like it better than the first one! Tell me what you think?