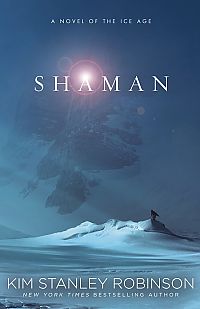 Life between the ice ages is a desperate battle for survival. While a tribe may feast in summer, it may also starve through the vicious winter months. For shaman in training, Loon, starvation is only one of the hardships.
Taken on as an apprentice shaman when his father (originally chosen to be the next in line) dies, Loon is brought up by Thorn, the clan's resident shaman and storyteller, and the crone-like medicine woman, Heather. And while both care for the boy they each have very different expectations as to whose footsteps he should follow.
Beginning during his First Shaman's Wander (a coming of age for a young shaman), Loon is forced into the cold winter naked and alone, fighting harder to survive the freezing snow, aggressive animals and worse, than ever before. Much to Thorn's aggravation and Heather's amusement, Loon's near-death experiences leave him with a fire in his heart to fight against the Shaman way of life.
It's not until, however, the yearly festival of the Eight-Eight that Loon truly defies his upbringing by taking a wife from another tribe. Life is far from easy after their blissful union though. Loon is in a constant state of struggle between the wishes of his tribe, his own desires, and the brutal outsiders who believe Loon's wife to be their property.
Shaman is told from the curious perspective of the Third Wind; a spiritual force that comes only to those in great need, to push them through the pain. Its tone is direct and emotionless, but far from detracting from the story this deadpan voice emphasises the brutality of the world and in turn makes the happy moments that much more prominent. In suffering there is always hope.
The  writing style is direct and harsh. There are no spare words; the settings are described just enough to fill your mind with images but not enough to overcomplicate, and language is short and tribal. This is a very utilitarian novel; like the animals hunted by the tribe, nothing goes to waste.
Shaman is a story about the passing down of knowledge, the wisdom of the tribe, and how culture changes from one generation to the next. As the experiences of each character shapes them, so in turn do the stories of the tribe change and flow. There are lessons to be learned from this novel. Seasons change, people change, stories change. And stories are often the most important thing of all.