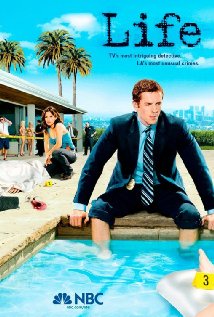 Life is what he got and life is what he got back.
This NBC drama was another slow burn for me. I hadn't really seen Damian Lewis in anything before, and his damaged quirky character took a while to warm to. In fact, I think the dynamic between him and his partner Danni Reese is really what hooked me in the the end; that and the cheesy take on Zen.
Detective Reese played by Sarah Shahi is a recovering addict, intense, broody, complex and a person who takes no crap. She carries a lot of baggage and belongs to the supress and then supress a little more school. It made for some good dramatic tension.
The crime/cop stories are nothing out of the ordinary, but the through story line is strong and the motivations are well set up. Secondary character, Ted Early (played by Adam Arkin) is brilliant in his role and I enjoyed Donal Logue as Captain Tidwell. Tidwell's character walked a fine line between sleazy and principled and was very nicely done. His romance with Reese is kinda naughty and sweet.
There are only two seasons, which, as is usual with canceled series, is annoying because nothing gets resolved.