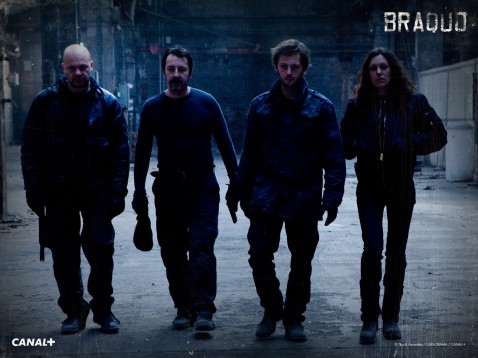 I wondered how I'd react to another gritty French cop show after my strong connection with Spiral (Engrenages), and to be honest the first episode of Braquo left me a little cold. There was no passionate Laure Berthaud or Pierre "Monsieur Integrity" Clement to love, just a group of very flawed, angry police working out of a grey, miserable warehouse somewhere in the bowels of Haute-de-Seine.
The IMBD blurb synopsis goes like this:
Four police officers of the SDPJ Hauts-de-Seine, Eddie Caplan, Walter Morlighem, Theo Wachevski and Roxane Delgado have their lives turned upside down when their colleague, Max, committed suicide, following a case in which he is unfairly blamed. They then cross the "yellow line", not hesitating to circumvent the law to achieve their purposes in order to wash the honor of their friend Max.
The viewer only gets a very brief time to know Max before the suicide and he appeared (to me at least) neither likeable nor charismatic. So from the beginning I struggled to get a handle on the motivation for the vengeance that follows.
However, one thing I've really enjoyed about both Braquo and Engrenages is the exploration of loyalty (particularly among cops) and how it is a belief/value that one must literally die for.
Braquo has some sexy moments, and some poignant ones but it is essentially a tale of survival – keeping one step ahead of those who want the worst for you; and about being in situations where the only choices are bad ones.
Though Spiral had the same ingredients, it also mixed in the morality, humanity and relevence of the law. There was something intrinsically noble about Spiral which Braquo doesn't have – and probably intentionally so. Braquo is as gritty as it gets on television, leaving British, Norwegian, Swedish, Canadia and America drama to pale in comparison.
I found the character of Eddie Kaplan charismatic and credible and Roxanne Delgado's slightly surly, defiant, little girl lost persona very endearing. Wachevski was vain and insecure and up for anything, and Morlighem, the gambling addict, had a deep love for his family that rescued him from hopelessness. All interesting characters though at times infuritatingly stupid.
There are no decent people in Braquo. Everyone is selfish, conniving and untrustworthy. In such a hostile environment, our little band only have each other to rely upon. In Braquo it really is a case of all for one and one for all.
An abundance of three day growth, bags under the eyes, gravelled voices, muted colours and cigarette smoke.