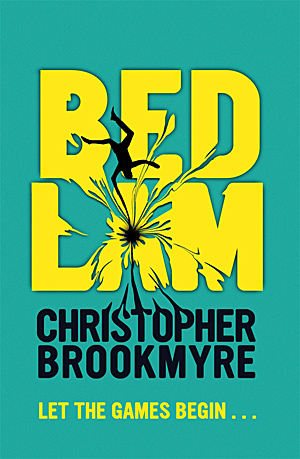 Reviewed by Joelene Pynnonen
Ross Baker is having a bad day. Having found out from office gossip that his beloved girlfriend has fallen pregnant but does not trust him enough to tell him, he volunteers for a scan using the new technology his company, Neurosphere, is developing. The scan is meant to take his mind off the complications in his life, and it does, just not in the way that Ross had expected.
Now he is trapped inside Starfire, the computer game he had played incessantly as a child. No matter what he does, he cannot escape. Dying is painful, but only leads to respawning. There are bridges that can take him out of the game, only to lead him to other games. What's worse, a group of people called the Integrity have set up within the game world and are trying to close off all the bridges, using brute force if necessary. Ross must find out what they are doing before time runs out for him and everyone else.
From the blurb one would expect Bedlam to be a fast-paced action with a lot of thrills and kills, but not much heart. That would be wrong. It does have action, but there are a lot of other things going on in this novel. It's philosophical and strangely domestic. Stuck in a game – or set of games – where pretty much anything goes, Ross's character is defined more by what he has left behind than by his actions. He considers the ramifications of killing before he makes any kills and his mind is consistently on Carol, his pregnant girlfriend. Ultimately Ross is a pillar of morality, and he has the intellect to be able to consider ethics on a scholarly level.
The writing is third person, but from Ross's perspective and it is as clever as it ought to be in showing Ross's thought processes. Brookmyre's writing is at turns witty, thoughtful or self-deprecating, but it is always in character.
The pace is the only thing that lets this novel down. There were a few reveals that I figured out before Ross did because of pacing issues. Usually that wouldn't bother me, but Brookmyre sold me on Ross being smarter than me (and most of the general population) and he should have been able to figure out anything that I could.
There were quite a few reveals that I didn't figure out, though. And, although I beat Ross to some of them, his reaction to the news was starkly different to what I would expect and quite refreshing.
 Bedlam isn't what one would expect from the cover and blurb. It is, however, a wonderful read that takes into account the moral dilemmas we will increasingly face as our technology advances. It's an inventive and thought-provoking read that I would recommend to gamers and non-gamers alike.
 Bedlam – Christopher Brookmyre
 Orbit Books (February 7, 2013)
 ISBN: 9781408704073