While I was housekeeping some files tonight I revisited the beautiful images Anna Repp created for my collection of interlocked stories, Glitter Rose, published by Twelfth Planet Press. I though it would be nice to share with you some of the pictures she sketched that didn't make it into the book (only because we couldn't afford all the colour). I love them!
The first two show the main character, Tinashi, on the verandah of her beach shack, sipping pink champagne. In the third she is absent but her glass is there.
Below is the cover we eventually chose, and you can see the glittering colour in the sand.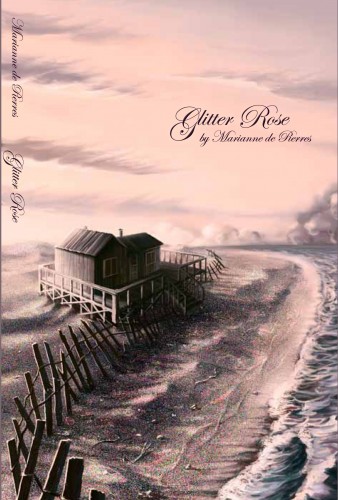 If you're not familiar with the collection, here are some review snippets that will give you an idea.
Domestic Extremist reflects on Glitter Rose.  "Marianne de Pierres, Glitter Rose, 2010
I picked this up in Sydney's Galaxy Bookshop and spent a very relaxed 50th birthday reading it. There are four linked short stories about a small, imaginary Australian island which has been colonised by strange spores from the ocean deeps, organisms that can bathe the beach in a pink light, create giant sandcastles that are impervious to water and subtly alter the bodies and minds of the infected island residents. There's a small ensemble cast of characters (reminding me often of The Last Tobacco Shop in the World) in which a new arrival to the island is constantly out of her depth and learning the hard way, plus there are deaths and strange goings on of a mystical and earthy nature. De Pierres was clearly inspired by J.G. Ballard's Vermillion Sands and these tales share a Ballardian atmosphere of languorous decay; undoubtedly the best story is 'Mama Ailon', a deftly composed tale about a strangely cathartic birth which brings the stories to a kind of conclusion – in her notes De Pierres says this story cycle is probably complete, but no – she absolutely must write more of these, and I must read more from her."
"Strange, deep, haunting … the stories in Glitter Rose will challenge you, and you may find some of the remarkable and vivid imagery creeping into your subconscious. I definitely recommend this worthwhile collection. Just be aware that these may look simple, but they're not casual reading. You'll need to bring something to the table, too." Geek Speak Magazine
Glitter Rose has its own website. You can explore more about it there.