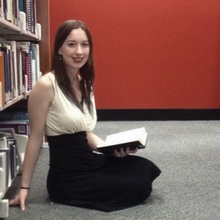 How long have you been writing for MDPWeb, why did you join the group, and what do you like about being part of it?
I've been writing occasional reviews and articles for MDPWeb for just over twelve months. I love having the opportunity to write pieces that are a little atypical compared to the average review, avoiding the formula so that I can delve more deeply into themes and ideas that I think are important.
What creative piece are you working on, and what author would you liken your work too?
I'm currently focusing primarily on a collection of short stories that forms part of my thesis. The stories are based on fairy tales that incorporate queer perspectives. I'm also always juggling a million other projects!
What book have you most enjoyed reviewing for MDPWeb?
My favourite book to review was probably Neil Gaiman's The Ocean at the End of the Lane, because I loved the opportunity to talk about the unreliable narration crafted so beautifully by one of my favourite authors.

What's your favourite thing to do in your downtime?
What downtime? On top of my full-time study, I currently have six jobs to my name. Thankfully they're all about my passion for writing, creating, and educating, so they often don't feel like 'work'. I've even figured out how to get paid for my videogame habit!
Is there somewhere else online/in bookstores we can find your work?
My work is all over the place. You can find links to all of my digital stuff—including stories, articles, and even videogames and interactive narratives—on my website: http://alaynamcole.com
What's your favourite TV series?
This is a really difficult question that tends to change depending on what I'm marathon-watching at any given time. I recently watched season one of Sense8 and I think it has the potential of taking the top spot, but for now the winner is probably Scandal.
 Who or what is your current crush?
I'm currently crushing on Cara Delevingne!