Joelene Pynnonen
Joelene Pynnonen embraces the life of an avid book lover in every way. Her household is ruled cruelly by a wrathful cat; and should a fire ever start it is doubtful that she would make it past the elegant stacks of novels to her room door. At least once a year she coerces her mother into watching the BBC mini-series of Pride and Prejudice with her, and will often follow up by re-reading the book.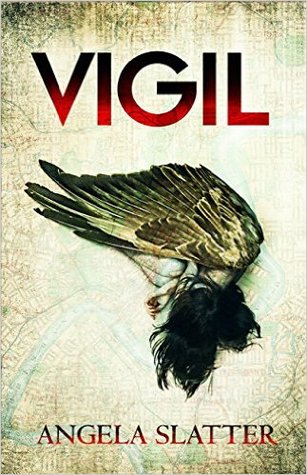 Human children are going missing around the city. The Weyrd population is worried that another paranormal butcher might be at work and history might be repeating. Verity Fassbinder is determined to find whoever is behind the disappearances. Years earlier her father had been discovered carving local children as delicacies for those who had not grown out of the taste of flesh. Some of his clients are bound to still be around and if they are sourcing human meat from a new butcher, they need to be found before they expose the Weyrd community to the world.
On top of that, the mangled bodies of Sirens are falling from the sky; some strange new beast is decimating civilians – Weyrd and human alike – and it looks as though a plot against the rulers of the Weyrd world is in play.
Vigil is Angela Slatter's first novel. Set in Brisbane, it follows Verity Fassbinder, a woman whose life has been a study in balancing her right to autonomy against her self-appointed vigil for her city. It's rare that I manage to find an urban fantasy set in my home city, let alone one as compelling as this.
Being more interested in the story than the packaging, I rarely comment on cover art, but here I'll make an exception. The cover of Vigil is one of the most stunning pieces that I've seen in years. Even if I were not already a fan of Slatter's work, I would have looked into this novel. It suits the story as well; atmospheric, dark and lovely.
I've loved several of Slatter's books of short stories, and was delighted when I found out that she had a novel coming out. Her writing style is unlike anything that I have come across before. She has a deft way with words that makes each line, paragraph and scene she writes say so much more than any other writer I've read. This writing style is echoed in Vigil, but the novel is very different to her other works.
The mythology in Vigil is beautiful. It may touch on Greek, Roman, Biblical and other myths, but Slatter has re-imagined the old tales in entirely new ways and then laid them over the glass, concrete, and metal fabric that is Brisbane. In many ways, it has the feel of a modern tale from the brothers Grimm, but one that is more concerned with character than with plot.
Which isn't to say that the plot is inadequate. If anything the plot is too epic for our sleepy city. It's the sort of storyline that belongs somewhere far more ancient and cultured. In this newly imagined Brisbane, however, it fits.
The characters are simply more gripping than the plot for a myriad of reasons. While they don't all have tightly woven relationships, they do slot together in their own ways as neatly as a jigsaw. The interactions are natural and immensely readable. The motivations, too. Verity's guilt for the actions of her father and her need to work at protecting the city even at risk to her own life makes her story an absorbing one.
This is a wonderful start to a new series. With richly imagined characters, setting and mythology, it is the perfect read for those who enjoy urban fantasy.
Vigil – Angela Slatter
Jo Fletcher Books (July 7, 2016)
ISBN: 9781784294021