Krista McKeeth
Krista McKeeth is a blogger and reviewer from Utah. Visit her website.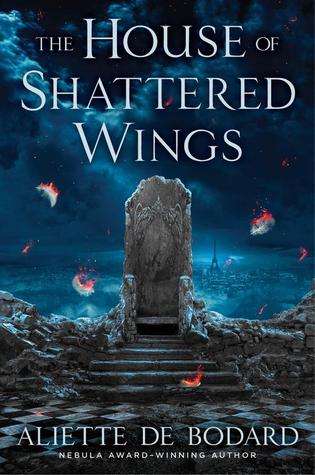 Multi-award winning author Aliette de Bodard, brings her story of the War in Heaven to Paris, igniting the City of Light in a fantasy of divine power and deep conspiracy…

In the late twentieth century, the streets of Paris are lined with haunted ruins, the aftermath of a Great War between arcane powers. The Grand Magasins have been reduced to piles of debris, Notre-Dame is a burnt-out shell, and the Seine has turned black with ashes and rubble and the remnants of the spells that tore the city apart. But those that survived still retain their irrepressible appetite for novelty and distraction, and The Great Houses still vie for dominion over France's once grand capital.
Once the most powerful and formidable, House Silverspires now lies in disarray. Its magic is ailing; its founder, Morningstar, has been missing for decades; and now something from the shadows stalks its people inside their very own walls.
Within the House, three very different people must come together: a naive but powerful Fallen angel; an alchemist with a self-destructive addiction; and a resentful young man wielding spells of unknown origin. They may be Silverspires' salvation—or the architects of its last, irreversible fall. And if Silverspires falls, so may the city itself.
EDITION Hardcover ISBN 9780451477385 PRICE $26.95 (USD)
The story opens up with a fallen angel being dissected by scavengers. The land is in ruins as a result of the great war, and angel essence is a much sought after drug. Selene, the head of House Silverspires, saves Isabelle and one of the scavengers, Phillipe. Selene can tell there is something different about Phillipe and intends to keep a close eye on him.
Since the war, the houses have never been too friendly, and when events bring the houses to a conference at House of Silverspires, all hell breaks loose. There is a shadow figure on the loose who has been killing people. Betrayals, secrets, revenge and abusive of powers all eventually become part of the storyline, as everybody's lives, especially those of the House, are in danger.
There is never a dull moment in the story, and the world building was amazingly detailed and hauntingly post-apocalyptic. Phillipe becomes the focus of the story as Selene tries to figure out who he is, and he tries to figure out a way to become unbound from her powers. Isabelle and Phillipe have a tie to each other and that comes into play throughout the story. The one character that has really stuck with me after reading this book, however, is Madeleine, the alchemist of House Silverspires, formerly of House Hawthorn, who is addicted to angel essence. Everything about her was hauntingly honest and true; the growth of her character throughout the story really stood out to me.
There was nothing that I did not like about this story. Everything comes together with perfect timing and intensity. If you enjoy stories about war, politics, fallen angels, high fantasy magic, this is a must read!
A book that I would highly recommend with a great ensemble of characters and story lines. It's pretty epic.