Alayna Cole
Alayna Cole reviews a debut novel
by Andrew J McKiernan from Satalyte Publishing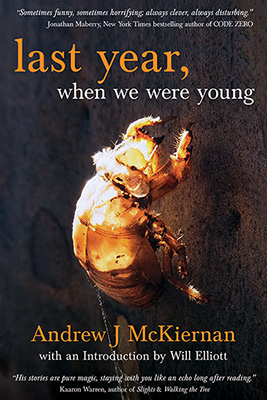 The short story collection Last Year, When We Were Young, by Andrew J McKiernan, shines a unique light on classic horror. The sixteen tales in the collection draw inspiration from a variety of genres and styles, with the magically humorous juxtaposed against the frightfully repulsive, but each story has something in common: they are all hauntingly clever.
Each twisted tale is striking and features an assortment of fascinating characters. From a mute mime to a woman in search of a second chance, from a teenage boy to a young country girl, the individual voice of each protagonist is expertly carried through the narrator, granting each story a distinct tone. Language is used skilfully to completely change the atmosphere of each story and to construct the identity of each character.
Creating three-dimensional characters in short stories is a difficult task, but McKiernan succeeds time and again. Although each protagonist is identifiably different from those in neighbouring stories, they all have traits that resonate. Being able to relate to and sympathise with this diverse range of characters makes these tales even more confronting and thought-provoking.
This short story collection is filled with surprises. With darker ideas littered between more light-hearted stories, it is impossible to guess what is waiting on the next page. The constant curiosity of what the next story might contain makes Last Year, When We Were Young difficult to put down.
It is a rare treat to find a collection where each story is an entirely different experience from the last, but still doubtlessly belongs alongside its fellows. Every story in Last Year, When We Were Young could stand strongly on its own, but is made greater for being placed between tales that are tied together by common themes.
McKiernan explores the deeply important themes of love, death, identity and loss in an array of settings. Through these sixteen stories, the reader is transported from the beach to country towns, from Tajikistan to Clowntown. The depth of research within each tale is obvious and makes these locations leap off the page. Exploring peculiar instances of magic, science, and religion within these realistic settings makes the contents of these stories all the more alarming; could these events actually happen?
While within these tales it is still possible to find the haunted mansions and ghosts of classic horror, it is this question – could these events actually happen? – that makes Last Year When We Were Young truly chilling.