Reviewed by Krista McKeeth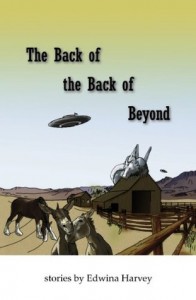 (BACK OF THE BACK OF BEYOND Come and join the Party!
Through her short stories "No Pets Allowed", "Get Me to The Worldcon on Time" , "My Sweet 286" and "Party", Edwina Harvey introduced her readers to a world where flatmates discover the difficulties of raising young dragons in small suburban apartments, where "flying" to a science fiction convention takes on a whole new meaning, and where "the next door neighbours" on an Australian rural backblock are out of this world, but the parties are legendary.
Now collected here for the first time, these stories are interwoven with seven new tales set in the same universe.
Come and be introduced to a rural Australian landscape you never knew existed somewhere out in the back of the back of beyond.
If you had to describe this book in one word, it would be "quirky."  The stories are short and at times made me do a double take and say to myself "what just happened?"  They are ordered in a way that makes the collection seem to be continuous narrative with character development and progression along the way.
From the very first story of trying to understand how two flatmates were capable of raising a dragon in such a small space, to the idea of traveling by air and going through a drive-in fast food restaurant to order food without landing, this collection is unique.
Each separate chapter, or story has an element of the weird, some reality and a bit of the supernatural. From a snake that tries to mate with (or eat?) a power cord, to a dragon farm, unicorns and aliens, this book really does have a variety of characters.
I am sure that many of us love the idea of moving to secluded farmland and unplugging from the outside world for awhile; cherishing the moments we do get to share with family and friends, meeting new ones and in this unusual case, getting to know an alien creature and their love for Coca Cola. Edwina Harvey provides it all.
Although I am still trying to gather all my thoughts on these stories, it is definitely a book that I will remember for years to come. Taking place in the "outback" of Australia, it is a humorous and quirky read. If you're looking for something a little outside of the box, you should pick this one up!
 Peggy Bright Books (December 8, 2013)