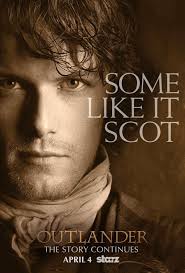 It's been a while since I've blogged on a TV series. Not that I haven't been watching them! In fact, the last few months I've been well nourished for drama with WEEDS, POLDARK, SUITS, HOMELAND, HOUSE OF CARDS, THE FALL and sundry other terrific shows. But much as I love Aiden Turner and have recently particularly enjoyed POLDARK, the shining jewel in the crown of TV this year — perhaps any year — has been OUTLANDER.
Ronald D. Moore has achieved a stunning adaptation of Diana Gabaldon's Outlander series. It is a well cast, well executed, lovingly (and no doubt exhaustingly) recreated glimpse into life in the Scottish Highlands during the build up to the Jacobite rebellion of the 1740s.
It shouldn't be any surprise that Moore has pulled it off with such panache; Battlestar Galactica Re-imagined is still one of the best SF dramas to ever grace the small screen. In fact, I often re-read his original pitch for the show, which is available online.
Outlander is an epic love story across time built around the characters of Jamie Fraser, a young Scot wanted for murder, and Claire Beauchamp, a nurse transported from the 1940s to the dangerous 18th century Scottish highlands, both of who are very genuinely realised by Sam Heughan and  Caitriona Balfe. Not only is their chemistry palpable, but the dialogue they are given to deliver is intelligent, realistic, and sprinkled with moments of humour and tenderness.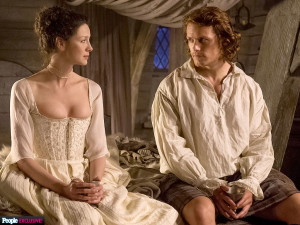 The pivotal wedding episode in the first series is without question the most romantic, sensitive, delicious, sensual, engaging love scene I've ever seen on screen. Why? Because Moore and his writers saw fit to allow the characters time to talk to each other and build their own, and the viewers, belief in the unfolding relationship. My goodness, what a difference conversation makes! Everything similar that has come before it seems pallid and rubbery.
Graeme Virtue in The Guardian writes:  "In Moore's deft hands, there's an immediacy and volatility to Outlander that makes nominally similar fare such as The Musketeers feel a bit panto in comparison… The episode devoted to Claire and Jamie's first proper Highland fling has already become a minor cause célèbre thanks to its rare acknowledgement of the female gaze. Unusually, the camera lingers over Jamie's naked body as much as Claire's. It's a progressive depiction of sex on screen: a relishable but relatable mixture of nerves, desire and animal passion."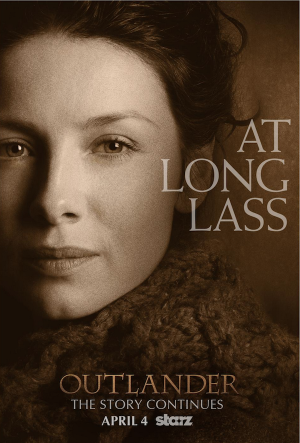 While I agree Grame Virtue's notion of the female gaze, it is so much more than a relishable but relatable mixture of nerves, desire and passion. The wedding scene he refers to is a delicate game of courtship, shifting emotional momentum, and the characters' instinctive journey towards developing a deep and enduring trust. But maybe that's just my female gaze :)
Certainly my female gaze is well and truly engaged by the fact that story is largely told through Claire's eyes, but also by the respect that she engenders for her intellect and competency.
The supporting cast is convincing: Tobias Menzies as Black Jack Randall/Frank Randall, and Graham McTavish and Dougal MacKenzie have particular impact, though my favourite would have to be Annette Badland as Mrs Glenna Fitzgibbons.
Being in Australia, I've only seen series 1 part 1, and am impatiently waiting part 2 while the rest of the world waits for Series 2!
The piece de resistance, however, is the theme song. I've had a love affair with the Sky Boat Song since I was a child. Later on, I used to sing it to one of my sons when he was young and had trouble settling into sleep. To hear the lyrics rewritten and performed so magnificently by Bear McCreary featuring Raya Yarbrough is a spine tingling experience.
As you can see I'm running out of superlatives. I don't think I've ever been quite so engaged with a television series before. If I haven't convinced you yet then let me say it plainly…if you want your soul to be touched, sometimes wounded, and ultimately uplifted, you must watch it.
Thanks to Ronald D, Moore for his vision, and to his writers and cast for going all in. I'm reading the first novel now, and it will be an interesting experience doing this in reverse (normally I would always read the book first). I'm sure Diana Gabaldon's version is equally, if not more, loving.