MDP On TV: Spiral (Engrenages)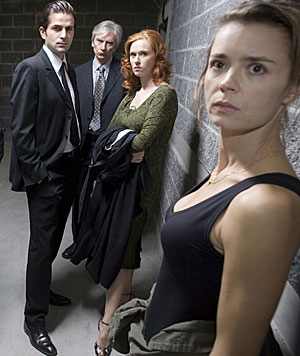 Spiral (Gears)
is, without question, the best thing I've watched on television aside from 
The Killing
. The cultural differences between the two series are quite significant as
Spiral
is French and
The Killing
is Danish but both have brilliantly well drawn characters. The story focuses largely on events surrounding Police Inspector Laure Berthaud (Caroline Proust) and Assistant Prosecuting Judge, Pierre Clement (Gregory Fitoussi – yum!). In doing so the series relfects heavily on the French Inquistorial Justice system. It also highlights many of the social problems in Paris; drugs, immigrant assimilation and political corruption. It is quite explicit and gruesome in parts, and very violent. While  
The Killing
 works as a slow burn, Spiral is confrontational and (depending on your sensibilities) shocking. It doesn't hold back on the uglier side of human nature. We talk a lot about flawed characters in fiction, and they don't get much more flawed than Laure, Pierre, Judge Francois Roban and Josephine Karlsson. Laure and Pierre swing between integrity and its opposite, while Francois' passion for the law costs him everything, and the black-hearted Joesephine shows that even the most corrupt of people can sometimes come through. Truly riveting stuff! 
I particulary enjoyed the dynamic between Laure and her team – specifically her co-dependency with the cocoaine-snorting Lieutenant "Gilou".
I am absolutely hanging out for series 4. Can things get any worse for the volatile, single-minded Laure and the suave, conflicted Pierre? I imagine, having seen what the brilliant writers have done already, they can! I'll certainly be there to stumble with them, and angst over whether they will make the right decisions.