Well, nearly. I'm going to the Powerhouse museum in Sydney next week to shoot a segment for an SBS doco and we're on location in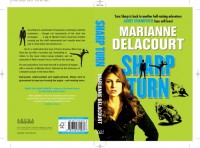 the replica space shuttle. Not only that but I'll be there with Sean Williams – two little SF writers together. How cool! Kaaron Warren and John and Birmo should be there as well.
Meanwhile I've been having a lovely time dividing my writing energy between Burn Bright 2 (currently called Angel Arias) and Peacemaker. Creating always puts me in a good mood.
Had some lovely reviews of Glitter Rose which I'm collecting over at the Glitter Rose site for those who might be considering buying the book.
Most fabulous news of the day though, is that my advance copy of Sharp Turn (the second Delacourt book) arrived in the mail. You can see a picture of it here.
Now if only I wasn't getting a sore throat, it would be a perfect day…