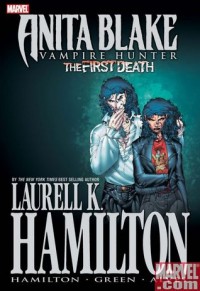 Anita Blake, Vampire Hunter: The First Death (Anita Blake, Vampire Hunter Graphic Novels 0) by Laurell K. Hamilton, Jonathon Green.Her fans have been asking for it – now, Laurell K. Hamilton delivers a look into Anita Blake's past! Written by Laurell K. Hamilton herself, along with Jonathon Green,
The First Death takes place almost a year before the events being chronicled in Guilty Pleasures. Witness the first meeting of Anita and Jean-Claude, Anita's first time inside Guilty Pleasures, her first serial-killer case, and an early encounter with Edward. Prepare to be thrilled by this original story produced especially for comics!
Collects Laurell K. Hamilton's Anita Blake, Vampire Hunter: The First Death #1-2 and Anita Blake: Guilty Pleasures Handbook.(less) Hardcover, 96 pages Published February 27th 2008 by Marvel Comics ISBN
0785129413 (ISBN13: 9780785129417)
This book is a combination of a prequel in graphic novel form and a handbook/guidebook to the Anita Blake graphic novel books. It contains spoilers to the series,so I would suggest that this is the last thing you read,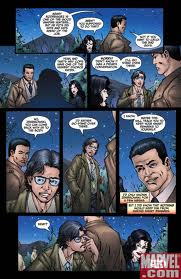 unless of course you don't mind spoilers and would like a look into the graphic novels.
We get to see a younger Anita going on her first job with the police force to try and identify what type of supernatural creature could have murdered a boy. She is nervous, throws up and is unsteady, never having seen a newly deceased body before. The reader gets to see her interactions with the other policemen and how some of their relationships were formed. Some of the policemen trust her decisions and others are still cynical about her opinions on the deaths. That is, until they see her in action.
She gets in an all out fight with a vampire that does not finish well, is bitten a couple of times and held hostage and tortured.
This particular story has less dialogue than the other books but the guide in it makes up for that. The guide has pages jammed with information about each character we meet in the graphic novels. It contains their photo, some background to the character and what they are most known for in this series. It is very detailed, with small writing while the illustrations are still in full-coloured glossy pages, with lots of  action scenes. Anita is a little less feisty than we are used to but the story gives the reader a good insight into the person she becomes in future storylines.