Reviewed by Jamie Marriage
V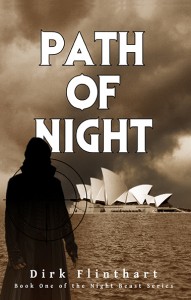 icious, viscous and Australian to the extreme, Path of Night by Dirk Flinthart is a wonderfully hard-boiled paranormal action story full of mythology and gritty realism.
A week after slicing his finger with a medical phial of unknown content destined for the incinerator Michael Devlin busts in to his professor's office to complain only to find him in the act of being murdered by a brutish creature of unnatural strength and speed. Waking up later in a morgue, assumed dead, with a powerful hunger and even more powerful questions Michael sets out to find out what is happening to him and why his friends keep being brutally slaughtered.
Meanwhile Detective Senior Constable Jennifer Morris is brought in to investigate the homicide of the professor and Michael, and of the two police officers sent after the murderer, before being taken off the case without explanation. True to her nature Jen cannot just let this go and starts investigating against orders.
In short order both Jen and Michael are running parallel after the same mysterious murderers in a violent game of hunter verses hunted through Sydney's vast metropolis. There is far more going on than just a medical research deal turned sinister.
Not skimping on grisly detail or cultural references Path of Night drags the reader deep into a gut-wrenching storyline of everything that makes this genre great; fast-paced action, lashings of gore and sexual intrigue, political corruption and characters evolving – figuratively and literally – as the story progresses. A heavy focus of the story is the mythological nature of early horror creatures, the vampire and werewolf primarily, and provides intriguing possibilities into the existence of such horrors.
The novel jumps primarily between four characters; Michael, Jen, political powerhouse Luttrell, and monster hunter, Hellyer. Here and there the narrative will move to minor characters, but given the visceral nature of this tale, they have a habit of not staying around for long. Given the frequency of movement though Path of Night doesn't feel disjointed or confused like many novels do when given this treatment. In fact the varying perspectives assist in fleshing out the narrative and make it easier to follow.
This isn't a pretty novel. It's raw and violent, sexual and powerful, chaotic and mesmerising. It's also a hell of a lot of fun!
ISBN: 978-0-9874000-8-6 (ebook)
Print RRP: $14.95 
Ebook RRP $7.99
October 2013