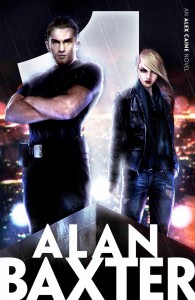 Reviewed by Jamie Marriage
Prizefighting is easy when you have a few special talents up your sleeves. But when a stranger who knows more of his secrets than anybody should, knocks at his door, Alex Caine is both rightly suspicious of, and completely unprepared for, the chaos to be unleashed upon himself and possibly the world.
Bound is the first novel of the surreal and harsh Alex Caine series by Australian dark fantasy author, Alan Baxter: a novel that doesn't relent in its vicious story-line and beautifully flawed characters.
Starting in the cage fighting realm of Sydney, Bound opens with Alex Caine fighting for his life and his career–trading blows with people far bigger than him, for the largest prizes. His only advantages are the discipline instilled in him from his martial arts handler and a strange gift for being able to see the intentions of others before they act. These attributes have made him a comfortable lifestyle and also turned him into a valuable commodity to those who would rather he fight for them.
When he refuses one big boss too many, Alex finds himself in a dangerous position–one that could leave him dead. His salvation arrives in the guise of a curious Englishman with deep pockets and answers to questions Alex never knew he had.
Swept off to England with the promise of money and sanctuary from the hostilities in Australia, Alex is exposed to the truth of his bizarre gift and the limitless possibilities of the magic he never believed in. But in a matter of days, he is also introduced to hostile creatures that appear bent on his destruction, and a strange book that seems to have a plan of its own for his life. His only way out may lay with a woman whose curiosity in Alex is matched only by her thirst for blood.
Bound is a fantastically gritty and modern view of dark fantasy, with twisted mythologies, sexual deviancy, and unapologetic characters. Most chapters have plenty of action, but not enough to hide the fact that there is a great story-line and dialogue going on from cover to cover. Greed, gluttony, wrath, and lust are all demonstrated in large portions throughout, and no character is without their vices and imperfections. It all comes together to create a book that's difficult to put down and thoroughly worth re-reading. Baxter has proven he has real skill with this genre, and if this first novel is anything to go by, there are even greater things to come.