If you're serious about becoming a professional writer then you should get to this:
This January 13-­15th in Salt Lake City, six international bestselling authors are presenting the second Superstars Writing Seminar, a full-blown ³boot camp² of the things you need to know to be a career professional writer.
Three days of intensive instruction taught by Kevin J. Anderson, Brandon Sanderson, Dave Wolverton , Rebecca Moesta, Eric Flint, and special guest instructor Sherrilyn Kenyon.
Topics include:
Economics of Commercial Publishing. How Editors Look at Manuscripts, Novels, and Short Fiction. Dissecting a Book Contract. How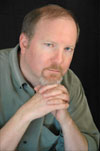 to Read and Understand a Royalty Statement. Dirty Secrets: What You Need to Know About Being a Professional Author. How to Leverage Your Intellectual Property.  Balancing Acts: Writing World and Real World.  Agents. Networking and Self-Promotion for Authors.  Understanding E-Books.  Pitching the Big Proposal.  How to Increase Your Writing Productivity. Two Heads Are Better than One: Collaborations. How to Get an Edge with New Media.  Movies, TV, and Authors and more, including open Q&A sessions, a special limited-seating VIP banquet to get to know the instructors, and plenty of networking opportunities among the teachers, other writers, and fellow students.
The Superstars Writing Seminar is a practical, no-nonsense course on business topics for the professional writer.  The seminar doesn¹t teach you how to write, but how to be a writer.
For further information, see www.superstarswritingseminars.com
And if you can't make it to Salt Lake City then follow Kevin J Anderson's series of essays on writing.