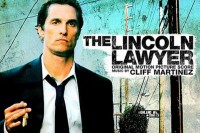 I'm too tired tonight to do a full blown review but I did want to say that I enjoyed this movie immensely. It's so good to be able to say that one of my favourite books has now become one of my favourite movies. Both Mathew Maconaughey and Ryan Phillipe do an excellent job of their parts and the screen writers have picked the essentials from the novel and presented a clean and well delivered narrative.
Some very nice secondary parts from William Macy, John Leguizamo and Trace Adkins as well. Marisa Tomei didn't get the greatest lines – Connelly's Maggie "McFierce" was portrayed as far more sympathetic in the movie than in the book. But that was really my only disappointment.
Bravo Brad Furman! Great job!