Thrilled to say that Margo Lanagan and Trent Jamieson have dropped by to share a little something about their new and upcoming books.
A PIECE OF YELLOWCAKE
Yellowcake bears a family resemblance to my previous three short story collections – White Time, Black Juice and Red Spikes. There are ten stories in it, and all but one contain some magical or fantastical element; 'Heads', the war story, is the only fully real-world story.
This collection's different from the other three, though, in that only one of the stories, 'Into the Clouds on High', was written especially for the collection. That story, about a woman being assumed into Heaven (as, in my Catholic childhood, I was taught Jesus' mother Mary was), I wrote because one of my editors thought the collection as a whole was fairly dark, and asked if I'd mind providing a story that lightened things up a little. So I guess, if you're wanting a laugh a minute, perhaps Yellowcake is not the cake you want to be eating!
The remainder of the stories were published in various places from 2006 to 2009. One of my favourites, 'The Point of Roses', came out as an extra in the UK edition of Black Juice – I'm very pleased to be able to bring the soft-toy dog in that story, Pumfter von Schnitzel, to new readers. Several of the others came out in anthologies that were only published in the US, and three were published only in Australia – one, 'The Golden Shroud', in a book for the educational market.
The variety of stories is as great as I could make it, given that I wasn't writing them with a collection in mind. There are a couple of retellings, 'The Golden Shroud' extending the Rapunzel tale, 'Night of the Firstlings' putting a new slant on the Passover story. The snide wizard's-vengeance story, 'A Fine Magic', was a whole lot of fun to write, I remember. 'Ferryman', about Charon's daughter, I didn't realise was as sad as it was until I read it aloud to a conference-full of librarians in New Zealand and nearly made myself cry. 'Heads' probably takes the cake for bone-crushing depressingness, but, oh dear, nobody gets out of 'An Honest Day's Work' untroubled, either, and dozens of characters end up dead.
Most of the Yellowcake stories were written while I was working on my novel Tender Morsels, which came out at the end of 2008 (in Australia and the US, 2009 in the UK). They were a way to refresh my brain and my writing, during the longer slog of the novel. I love how it only takes a tiny spark to set the idea for a short story alight. However dark the content, in comparison with a novel it feels very playful to me to set a short story running and see where it takes me. I hope people enjoy reading these ten short runs through the wilds of my subconscious as much as I enjoyed writing them. — Margo Lanagan
ARE YOU READY TO ROIL?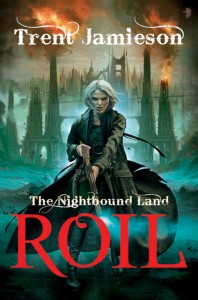 Roil is part one of the Nightbound Land Duology. It's my monsters and Steampunk book. I love monsters and I love the accoutrement of steampunk, and I've loved them both since I started reading Michael Moorcock as a child. If I've done my job well, these books should be dark and fast: a smoking, shuddering rollercoaster at midnight.
Shale is a world drowning in a monster-haunted darkness called the Roil. It's a place where everyone has been pushed to breaking point.
There's David Milde, addicted to the drug Carnival, and survivor of a political coup. All he wants is to save his own skin, and maybe score some more Carnival. Then there is Margaret Penn out to destroy the Roil for what it did to her family and her city. Vengeance is her only goal: get in her way and, well, you don't want to get in her way. The Old Man Cadell may be the greatest monster of his age, guilt and weird hungers drive him, but he holds the key to Shale's salvation (possibly). And then there is Kara Jade pilot of the Roslyn Dawn. She's proud and loyal. But where do her loyalties lie? If any of them are to survive they may need her most of all.
That's not even mentioning the cruel Mr Tope, or the single minded and murderous Mayor Stade whose chief regrets are not killing his closest friends earlier.
Night will fall, but who will fall with it? — Trent Jamieson