The bad news is that I have had to cancel my appearance at the Logan Library SF mega panel due to some other work commitments. Many apologies to anyone coming to say hello, but know you'll be well entertained with the fantastic authors who will be there on the day; Trent Jamieson, Rowena Cory Daniells, Lou Cusack and the pocket rocket, Kylie Chan.
The good news is that I've ordered two weird westerns on amazon: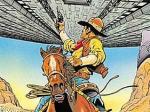 "How the West Was Weird: 9 Tales from the Weird, Wild West"
Russ Anderson Jr
"The Big Book of the Weird Wild West: How the West was Really Won! (Factoid Books)"
John Whalen

Has anyone read them or heard of them? The Joe Lansdale books looked interesting too, and I wanted to get Cowboys and Aliens but it was soooo expensive.

Dear Platinum Studios, please send poor writer a complimentary copy.