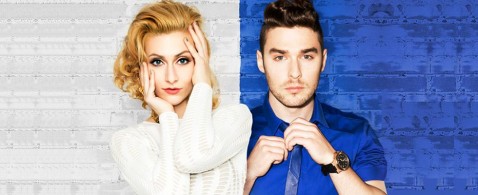 Acapella was one of those songs I kept hearing on the radio and couldn't get out of my head. When I finally tracked down the song video, I fell instantly in love with it. It really pops; the music, the dance, the film editing, the lighting, the wardrobe.
From what I've read, it's a homage to the 90's videos that the duo Karmin (Amy Heidemann and Nick Noonan) grew up watching. Wiki cites  Busta Rhymes,Missy Elliott, TLC, Brandy and Destiny's Child as their main influences and the clip is the end result of good choreography and a strong vision.
I can't help but compare it to the DJ Havana Brown's video for WARRIOR, which seems to have a muddy vision and some awkward costuming that does little to enhance the song. Have a look at both of them and tell me what you think. I'll be interested to see what Karmin offer up next. 
Songwriting – Amy Heidemann, Nick Noonan, Sam Hollander, Martin Johnson
Production – Martin Johnson, additional by Kyle Moorman and Brandon Paddock
Mixing – Serban Ghenea
Engineering – Kyle Moorman, Brandon Paddock
Warrior by DJ Havana Brown