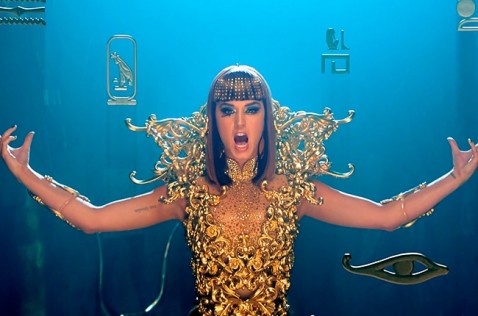 Though I'm not strictly a Katy Perry fan, it's hard not to admire how hard she works and what a marketing genius she is. I loved the ROAR video clip but this one is even better. With SUPER high production values, as you would expect, and colourful sets, Perry lets pop culture loose on Ancient Egyptian mythology with astonishing success.
So where to start praising … let's see, the dominant mauve and blue colour themes are personally appealing, the attention to detail in the make up and the costume show true appeciation of Ancient Egypt (thumbs up from the experts, apparently), and then there's Cleopatra (Katy Patra) busy turning her fawning male suitors to dust once she has received their offerings.
Honestly, how could you not love this entire concept and its immaculate execution. Like Lilly Allen's clip, Hard Out Here, Dark Horse created some serious controversy when it was released in February 2014. But while Allen was accused of being rascist, Perry's music video strayed into the treacherous waters of religion.
You can read more about that on Wikipedia. Juicy J's featured vocals are a strong counterpoint to Perry's sultry caroling, and I totally DIG his glasses. Golden asps, blue servants, elaborate period accessories, and puppies, this a visually sumptuous and fun feast from one of the most influential entertainers of the decade.
Directed by Matthew Cullen