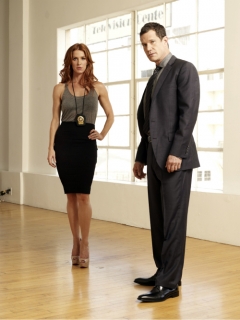 There's been an increase in cop shows with female leads over the last few years and many of them have been pretty good: The Closer, Major Crimes, King, In Plain Sight, Saving Grace, Cold Case and Rizzoli and Isles come to mind. Poppy Montgomery in Unforgettable is another one to add to the list.
The wiki summary says:
Carrie Wells has hyperthymesia, a rare medical condition that gives her the ability to visually remember everything. She reluctantly joins the New York City Police Department's Queens homicide unit after her former boyfriend and partner, Lt. Al Burns, asks for help with solving a case. The move allows her to try to find out the one thing she has been unable to remember, which is what happened the day her sister was murdered.
The use of Carrie's (Poppy's) hyperthymesia is an interesting hook, and there's some strong romantic tension between her and her old boyfriend-now-boss, Al Burns. The stories are a little pedestrian but Carrie's obsession with her sister's murderer adds a darker and slightly disturbed layer to what otherwise, could be a pretty ordinary cop show. There's something about Poppy's Character, Carrie Wells, that resonates for me with Bo played by Anna Silk in Lost Girl. Both are confident, brave, sexy women who value their friends.
I haven't seen Jane Curtin, who plays Dr Joanne Webster the gnarly Medical Examiner, since her days in 3rd Rock from the Sun, and her acting brings some extra piquancy to her role.
Having cancelled it after season 1, CBS commissioned a second series in which they ditched all of the cast except Carrie, Al and Dr Webster, and relocated the three uptown into much more opulent circumstances at NYPD headquarters. I haven't had a chance to watch it yet, but I'll be interested to see if shifting the show's location from Queens robs it of its little bit of individuality.