Reviewed by Jamie Marriage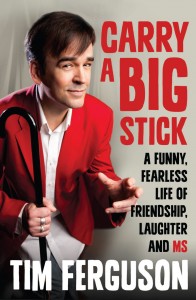 As a kid born around the end of the Cold War I was exposed to a lot of different influences and styles. I missed the 80's but took the blast of the 90's full in the chest. Some of my media heroes are far more of my father's generation and sadly missed, some I got to grow up with as they rose to power in my own generation. One of those that falls between the two though was the musical group the Doug Anthony All Stars (DAAS for short), a comedy trio starring Tim Ferguson (the good) Paul McDermott (the bad) and Richard Fidler (the guitarist).
DAAS was one of those musical comedy groups that was as true to Australian culture as you could get; self deprecating, abusive, obscene and hilarious. This relatively short lived group, at least compared to many that are still touring decades later, was picking up creative steam when I was born and unfortunately scattered upon the winds by the time I was old enough to get my first glimpse of their material.
Over the last decade and a half I have been one of the many cult worshipers of everything that was DAAS; they were a musical force, creative gods (in the Greek Pantheon, getting up to all kinds of trouble kind of way), and had personalities that etched themselves upon the psyche forever.
All that being said there were a lot of questions awaiting answers regarding the fate of DAAS. Most of the stories they themselves planted in the media about their formation and disassembly were false, half out of mischief, half out of mistrust of the media. And who are we to deny them this form of entertainment.
So when I was given the chance to read Tim Ferguson's new Autobiography, Carry A Big Stick, I put my hand up so fast I'm surprised I didn't dislocate my shoulder.
Following one individual from birth to middle age is tricky for people that have never read an autobiography before; the only storyline is that of the individual themselves, every scene usually only gets a brief mention, and the supporting characters tend not to get much of a back-story. This isn't dense space opera, nor is it a grand epic, but it is able to rub emotions raw and draw you in just the same.
Laid out in acts and split into scenes, much like that of a traditional play, Carry A Big Stick follows the life of one gorgeous man from childhood in the 1960s to the present day. With each successive act a Monty Python style separation of one stage of life to another. And throughout the narrative the silent antagonist follows our hero until he can deny its presence no longer.
The rise and fall of the Doug Anthony All Stars, Tim's television acting and production career, and his later work as a comedy teacher and author are all covered throughout this four act play. Some of it will make you laugh so hard you'll have to put the book aside, some has the power to drag tears from your eyes, but every scene is memorable. A precious story of its own to be treasured.
This is the book of one of Australia's true comedic masterminds. His story told his way, and with all the truth a comedian can muster. What more could be asked from such a man?