Unconventional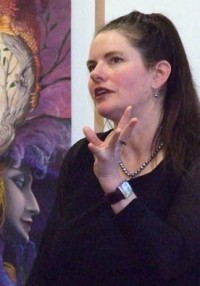 A few days ago I received a poster in my email—a very cool poster that Orbit, my UK/ANZ publisher, have put together for Worldcon. The poster features planet earth and the moon (two moons in fact!) and the names of all the Orbit authors attending Worldcon in Melbourne this year—of whom I am one. Which is very exciting for me, not just to be an Orbit author—which is, of course, very exciting—but because this is the first time that I have attended a World Science Fiction Convention. I am a long time avid reader of scifi-fantasy and lover of shows such as Babylon 5, Buffy and Firefly, not to mention Blade Runner being one of my all-time-favourite movies—but I have never been to a Worldcon or voted on the Hugo Awards. (I've even blogged about this sad fact on Out of this Eos, my US publisher's blog.)
There are a number of reasons for this. I live in Middle Earth—I mean, New Zealand—and most Worldcons are in the northern hemisphere, i.e. a very long way away. (So it's great that so many northern hemisphere folk are making the journey "downunder" this year.) Also, a little like some other residents of Middle Earth fame, I am something of a moss gatherer by nature and not unhappy with my study and my garden, my manuscripts and my books . . .  But Melbourne is not only closer than your average world city, it's also one of my favourite cities. And this is Worldcon—and the opportunity to meet a whole lot of other people who love writing, and reading, and viewing the same stuff I do, many of them writers themselves. So you can see why even a long-time moss gatherer like me had to close my eyes, take a deep breath—and go!
(OK, so there's the whole not liking flying thing—or as I like to think of it, 'David Bowie, Sean Bean and me'—but I've read Dune, I can recite the Litany Against Fear: i.e. close the eyes really tight, take a boddhisattva breath—but still go!")
Oh—the writing? OK, back on track. Yes, I am a writer, or as I say on my blog, "a novelist, poet, interviewer and lover of story". The poetry is for the page and for performance. The interviewing is mainly around books and writers, for a local radio station, and has also lead to my chairing and compering a number of public events, including an evening with Orange and Whitbread prize winning author, Andrea Levy, which was a lot of fun. But mainly, I am a novelist, and when the ideas for novels come to me, they arrive almost exclusively in the guise of fantasy-science fiction.
My first novel, Thornspell (Knopf 2008), has just come out in paperback and is a fairytale retelling:  in this case of Sleeping Beauty, butfrom the perspective of the prince destined to break the spell—with a dark little backstory around the motivation of the wicked faery who has not at all given up her vile plots and machinations. Described variously as "darkly imaginative" (Canvas), and a "full blooded tale of ambition and romance" (Booklist) Thornspell was my first foray into the kind of Fantasy I love to both read and tell: swashbuckling, adventurous, and romantic, with overlapping layers of mystery and magic. And it won the Sir Julius Vogel Award for Best Novel: Young Adult in 2009.
But coming very soon, in October in fact, from Orbit here in Australia/New Zealand (also the UK, but not until a little later there—March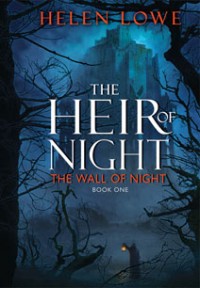 2011) and Eos in the USA, is my second novel The Heir of Night (The Wall of Night, Book One) which is a darker and more epic tale for adult (but also "crossover") readers. Heir is a story of darkness and peril, mystery, friendship and love, which unfolds in a broken world of shadow and conflict where nothing is exactly as it seems . . .
Currently, I am hard at work writing the second book in the Wall series—but you can read all about that and my books, as well as other people's books, the writing process, ideas, interviewing, story, poetry and a whole lot more on Helen Lowe on Anything, Really. Right now I'm taking time out to visit Melbourne in the springtime—and Worldcon. Having an adventure, in fact—which even we moss gatherers have to do from time to time!
Bio:
Helen Lowe is an award-winning, New Zealand-based novelist, poet and interviewer. Helen won an inaugural Robbie Burns Poetry Award in 2003 and her first novel, the YA Fantasy Thornspell, is published by Knopf (USA, 2008). In 2009, Thornspell was selected as a Storylines Children's Literature Trust "Notable Book" and won the Sir Julius Vogel Award for "Best Novel, Young Adult". In the same year, Helen was also awarded the Sir Julius Vogel Award for "Best New Talent". Helen's second novel, the Heir of Night, the first of the adult Wall of Night quartet, is due out in October in the USA (Eos) and Australia/New Zealand (Orbit), with UK publication (also with Orbit) scheduled for March 2011. Helen's poetry and short fiction has been published and anthologised in New Zealand, Australia and the United States.