Bec Stafford
Bec Stafford has a Masters of Philosophy from the University of Queensland. She blogs and interviews for the Escape Club and The Spotlight Report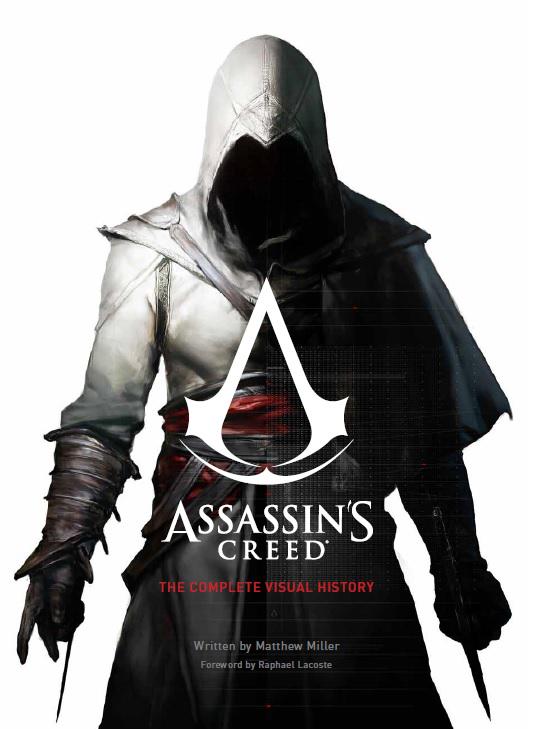 Assassin's Creed: The Complete Visual History is quite simply one of the most visually stunning books I've ever held in my hands. Penned by gaming journo, Matthew Miller, this sumptuous hardback runs to a whopping 320 pages, most of which are filled with extraordinary artwork that you will want to revisit repeatedly. The franchise's brand art director, Raphael Lacoste, has provided a short foreword in which he informs us that 'Assassin's Creed is about reimagining and reliving history, and with every instalment we aim to create plausible worlds and credible immersion for our fans.' Fans of the game will already be familiar with just what an escapist's wonderland Assassin's Creed is, but this beautifully bound hardback takes the reader through the entire history of the game: its conception, development, characters, timelines, and historical inspirations.
Even before you open this mammoth hardback, the cover is likely to hold you transfixed for several moments with its embossing and arresting image of Ezio, head bowed, blades drawn – stark and dramatic against a pure white background. The comprehensive and jaw droppingly gorgeous concept art within is an absolute delight.
Many of the images have won design awards and make for fantastic posters or prints. The book also contains illuminating interviews with Ubisoft developers and artists who describe the complex planning and evolution behind the outrageously successful franchise. Every detail appears to be underpinned by an underlying philosophy that adds depth and dimension to this impressive artistic vision. Everything, from the logos and costume design through to the background rendering and architectural detail, has been thought through with the aim of preserving iconic design elements and intelligently enhancing the player's immersion in the Assassin's Creed universe.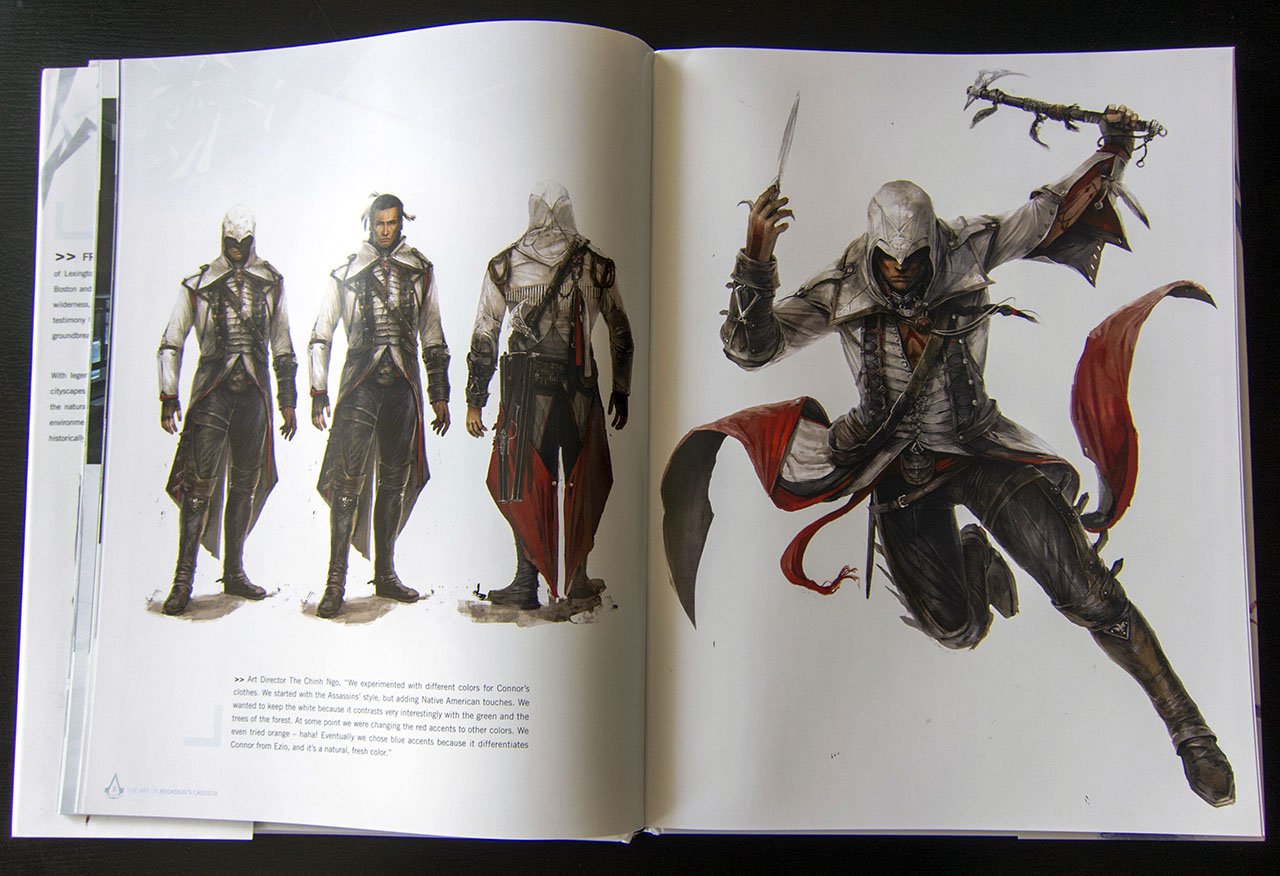 It has to be said that you don't even have to be a gamer to appreciate the beauty of this Insight Editions publication. Designers, artists, history buffs, and anyone who simply appreciates beautiful illustration and art will become equally lost in this incredible world. The book is divided into 11 sections, the initial 9 being devoted to the various historical periods represented in the game, kicking off with the Middle Ages and working through the Renaissance, American Revolution and so forth, right through to the shorter Chronicles games, set in China, India, and Russia, and finally offering insight into the mysterious World Before. Following these info-packed, yet easy-to-read sections, we are presented with a chapter dedicated to the products and spin-offs inspired by the game, including cartoons, novels (and graphic novels), short films, and collectibles.
The background and genesis of each of the franchise's assassins are explained in satisfying but never overwhelming detail, along with those of a number of secondary characters and adversaries/ Templars. It's also fascinating to read about which historical characters were chosen to best serve the storyline and reflect each time period (e.g. Leonardo da Vinci, Nicolo Machiavelli, Paul Revere, and Ben Franklin). The planning behind each of the cities or settings throughout the franchise is also discussed and it has to be said that these reimagined historical places are every bit as fascinating and complex as the characters who inhabit them. Designers discuss having to narrow landmarks down, for example, in order to best represent an area (such as Paris) or having to deliberately add scaffolding to structures in order for characters to scale them. Elsewhere, details such as the shift from day to night throughout a game are described as being key features of the game's realism. Each individual element has been cleverly engineered to spark our imagination in order that we may, as Lacoste states, 'travel in time in order to discover epic locations and witness some of the world's most pivotal moments in history.'
If you're stuck for Christmas gift ideas this year, this release is highly recommended for fans of the game or anyone who appreciates an astonishingly beautiful coffee table art book.
Assassin's Creed: The Complete Visual History – Matthew Miller
Insight Editions
320 Pages, hardback
Published 30th October, 2015
ISBN10 1608876004
ISBN13 9781608876006