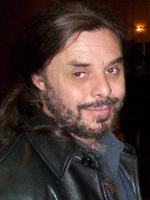 Stephen Dedman
Stephen Dedman is a writer, book reviewer, and tutor. He's previously been an actor, a manuscript assessor, an academic and legal WPO, an editorial assistant for Australian Physicist magazine, an experimental subject, and a used dinosaur parts salesman.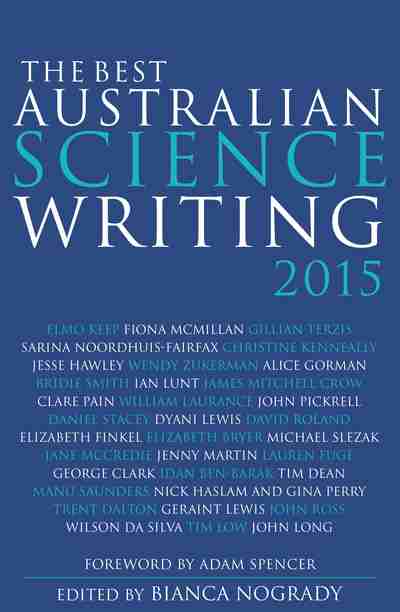 The Best Australian Science Writing covers a wide range of topics, from the mating habits of prehistoric fish to plans for a future Mars mission financed by reality TV; from the quintessence of dust to the complexity of the human brain; and to mapping the universe. Some of the essays are horrifying, some amusing, but all are very readable to anyone with a fairly basic level of scientific literacy. I don't remember there being a single equation in the entire book, nor an explanation that I found tedious or redundant.
After a foreword by Adam Spencer and an introduction by editor Bianca Nogrady, the volume begins with one of the most interesting pieces: Elmo Keep's essay on Mars One and the West Australian selected to be one of the astronauts on this one-way mission. It's written in an entertaining style, but seems aimed at dashing the hopes of anyone dreaming of crowd-funded interplanetary travel in the foreseeable future. This is followed by Fiona McIntosh's The Vanishing Writers, which is – to my relief – not about the death of the author (that favourite fantasy of structuralist critics), but about the search for the insect responsible for the markings on Scribbly Gums.
Next is the first of three essays on the future of robotics and AI, before Jesse Hawley explains how we feel wetness despite having no nerve endings that recognize it (this is one of the few pieces where I can vouch for the findings; while I was reading this on a plane, the child sitting next to me spilled a cup of water on my leg!). Wendy Zukerman gives a brief sketch of the evolution of genitals. Sarina Noordhuis-Fairfax converts an extract from an old Dictionary of Photography into a poem, the first of two in the book. Bridie Smith's Playing God concerns applying triage principals to endangered species to determine which we should concentrate on saving – one of many rather depressing pieces on the probability of the next Great Extinction Event occurring in your lifetime.
Many of the essays on medical matters are even more disturbing: Christine Kennedy's The Past May Not Make You Feel Better, on Huntington's disease, is so grim that I twice had to take a break from reading it (and I'm a horror writer!) and David Roland's How I rescued my brain isn't a bundle of laughs, either, though Trent Dalton's Beating the Odds, about a new design for an artificial heart, is considerably more optimistic.
On a lighter note, Alice Gorman gives us a job description for an interplanetary archaeologist, Ian Lunt speculates on the potential for interactive apps to replace paper field guides, and Jenny Martin proposes new metrics for ranking universities and suggests implementing a "no asshole rule". Lauren Fuge praises Pickering's mostly forgotten "computers", the underpaid women who did the hard work of mapping the universe with 1880s tech; Nick Haslam and Gina Perry re-examine Stanley Milgram's experiments; John Long describes the sexual position favoured by Microbachius dicki; and Tim Dean peers into The Mind of Michio Kaku.
Whichever field of science interests you, you'll almost certainly find something worth reading in this collection. And if science doesn't interest you, maybe you should read this anyway.
The Best Australian Science Writing 2015
Edited by Bianca Nogrady
Newsouth. 298 pp.