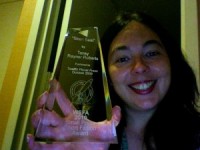 I'm so excited about this I have to do a bit of jumping up and down. Just heard that Alisa Krasnostein from Twelfth Planet (the publisher of my Glitter Rose collection) has won the Washington Science Fiction Small Press Award (at Capclave in Washington DC) for Tansy Rayner Roberts novella, Siren Beat.
I'm excited about this for sooooo many reasons. Firstly, two of my friends got some MUCH deserved recognition, beating out a bunch of super-talented North American writers.
Secondly, Twelfth Planet Press is taking another step towards becoming a force amongst independent publishers the world over. In fact they're calling TPP the Giant Killer.
Thirdly – and now a story I haven't told anyone before – one of my own dreams got inadvertently realised. A couple of years ago myself and co-editor Lynne Jamneck put together a proposal for the first ever Australian Urban Fantasy anthology with an awesome lineup of Aussie writers. It was to be charity antho to fundraise for The Australian Crohn's Association and was to also offer an *amazing* bonus story by (our only non-Australian) Anne Bishop. I approached two of our raft of brilliant writers to write sample stories for the proposal. Can you guess who????? Tansy's Siren Beat was one, and Pamela Freeman's story The Lord of Misrule was the other. We got SO close to selling the antho to a major publisher (it actually was going to acquisitions) and literally that week, the GFC hit, and everyone backed away. I'd put a huge amount of work into the proposal, not mention feeling like I'd totally failed to help the Crohn's Ass'n, and was quite devastated.
But my dark cloud now finally has a silver lining… Alisa (also a sufferer of Crohn's – kinda karmic that things worked out the way they did, AK!) published the story and put it in her Twelfth Planet Press doubles series and since then it has gone to garner all sorts of attention, including shortlisting for an Aurealis Award, being on the Locus recommended reading list, and now winning the WSFA.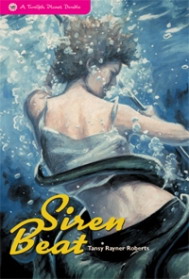 Kudos to both Tansy and Alisa! Here's Tansy's acceptance speech:
As an author, "Siren Beat" is the story that keeps giving back. I have been overwhelmed by the buzz and response to this story, which began as an experiment in trying to create urban fantasy with a distinctly Australian flavour. My Australia is not the outback or the crocodiles or the soap opera suburbs. I live in Hobart, a small city on the edge of a bright grey coastline; there's nothing between us and Antarctica but a very cold wind. I loved bringing monsters to my hometown, and indulging in the Tasmanian obsessions with weather and seafood to drag a kraken and a handful of sirens into our harbour.
Receiving international recognition for a story I thought would not make sense to anyone but me is a tremendous honour, and I am very grateful for it. I am also delighted to announce that I recently received an Australia Council grant to write the first Nancy Napoleon novel, further exploring the characters and world of "Siren Beat."
I would like to thank Alisa of Twelfth Planet Press, not only for publishing this story and creating such a beautiful book, but for taking up the challenge to fly halfway around the world to have an adventure I would have loved to attempt myself, if I was not at home with a baby glued to my left leg. Credit also goes to Marianne de Pierres, who originally inspired this story, to my partner Andrew who supports me with every definition of the word, and to Kaia Landelius, my Swedish Writing Fairy, who pitched in when I was struggling with one of the most confrontational scenes. Everyone needs a friend who will help them write tentacle smut.