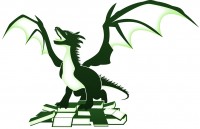 I am absolutely thrilled to announce that my first picture book is being released by UK based publisher Books To Treasure this year.
Most of you probably aren't even aware that I have a number of children's publications to my name. Indeed, writing for primary school children was my first love. I've also written a number of children's picture book manuscripts and had a dream to publish one of them but it never happened as I got sidetracked into writing for adults.
My dream has finally been realised when Books To Treasure publisher, Adrianne Fitzpatrick gave my story Serious Sas and Messy Magda the nod. This was made all the more meaningful by the fact that Adrianne taught me most everything I know about children's writing over a decade ago, back when she ran classes.
She's gone on to have a long career as an editor in Australia and the UK and now has her own publishing house.
In the coming weeks I'll be able to share the cover with you, but for now please join me in a cheer that when dreams do come true, it feels as good as you imagined it would!
I'll update you with release date and buy details in due course. I'm so excited that I'll be able to share the book with all my new great nieces and nephews.