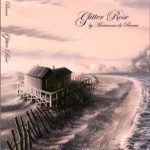 After three weeks of book tour and appearances its not surprising I'm fighting off a cold. Melbourne Supanova was wonderful though, and made better by the fact I got to spend some time with my twin, Isobelle Carmody, who I hardly ever see. Isobelle is my kind of people in every way and I hope to have her back in Australia full time one day. I'm waiting on some Supanova pics to come through, especially the one of me with Aaron, who was wearing the biggest Fro in the history of Fros!
IMT, here is a round up of stuff. Burn Bright continues to get most gratifying reviews, which I am accumulating over here. I've also just done an interview with YA Concoction, and She Who is Know as Jess, and Eleusinian Mysteries are doing Burn Bright And giveaways of their own volition. Many thanks guys! And Missie at The Unread Reader has included Burn Bright in her YA Aussie Book Tour.
A lovely in depth review of Glitter Rose popped up this week too. The book is available currently for a discount, as we attend conventions. If you'd like to pick up a copy for $25 AUD, you can email me through this website's contact form.
I received my copy of Apocalypse in Australian Fiction and Film by Roslyn Weaver this week and it's so terribly cool to see the chapter on Parrish Plessis. I can't wait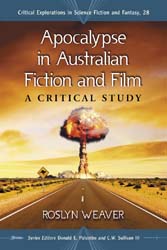 to read it.
What else? Laura Anne Gilman is going to be guest blogging soon, so am looking forward to that. And there'll be some more Super Creatives upcoming.
Finally, I'd like to announce the winner of the Ilona Andrews book set. Evening Green is the winner with this post on The Moment of Gratuitous Coolness:
I think a favorite moment of gratuitous coolness of mine would be in "Ronia the Robber's Daughter" which I read as a child, when Ronia's friend (who is the son of the rivaling band of robber's chief) is held prisoner by her own people and she ensures his safety by jumping over an abyss to be captured by her family's enemies who then can exchange her for him and both go free. I still remember this scene vividly and I think it will stick with me for a long time.
**Evening Green could you please send your postal details to me through the website's contact form and I'll pass them on to Ilona.