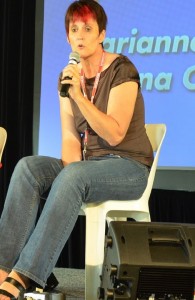 2014 is lining up to be a helluva a year!
I've enrolled to do a creative PHD at Curtin University. Though I have been accepted in, I'm waiting on the scholarship news. So more on that when I hear from them. Suffice to say the topic is SF and Feminism :)
In the meantime, here are some of the places you will find me during the year:
I'm really excited to be doing Year of the Novel for the QWC, and am hoping that some of you will join me for it. Also really looking forward to my regional tour with the QWC which will include Townsville, Carins and Charters Towers.
– A coffee morning at Logan West Library in March 2014. Link to come.
– Presenting my new picture book to a school group at the Redlands Library Library in March. Link to come. (Maybe also some adult fiction critiquing workshops for Redlands Library but haven't had them confirmed as yet)
– A trip to Sydney for research on my new crime novel.
– And hopefully there will be a Supanova in there as well!
–  I also have the privilege of structurally editing a wonderful SF YA novel for a great publisher I'm working with (secret project). This book is going to rock!
–  And of course, I will be writing DEALBREAKER (Peacemaker #2) for an October delivery. 
Think I better get some rest over the hols. It's going to be HUGE!
What do you all have planned???? Leave comments below.