Scott Sigler will be a guest at Parrish's Patch from 6th-8th of June. And because I'm lazy, I'm pinching his official bio which goes like this …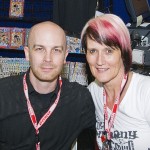 New York Times best-selling novelist Scott Sigler is the author of ANCESTOR, INFECTEDand CONTAGIOUS, hardcover thrillers from Crown Publishing. Before he was published, Scott built a large online following by giving away his self-recorded audiobooks as free, serialized podcasts. His loyal fans, who named themselves "Junkies," have downloaded over eight million individual episodes of his stories and interact daily with Scott and each other in the social media space, www.scottsigler.com.
I met Scott at Supanova this year, and the thing that really won me over to him – aside from the fact that he is smart, funny, cool and writes with an adrenaline syringe – he didn't flicker an eyelid when I needed company to go to a strip club to research my new series.
Do yourself a favour and check out the trailer for his new book, Ancestor, released June 23rd. The last line in the trailer is an absolute kicker!