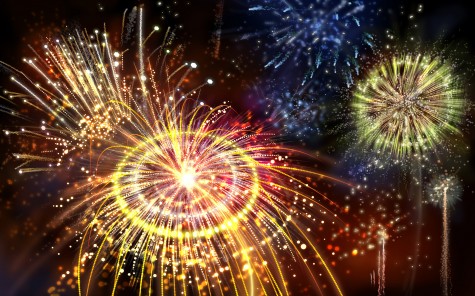 As some of you will know, I've been out of action since early December with three prolapsed dics in my lower back (one of which is herniated – oddly enough Karen Miller has been suffering exactly the same thing at the same time! She has my sympathies.) It's meant enormous pain and no mobility. I've been housebound waiting for it to recover and unable to write because I can't think through the pain, handle the weight of my computer on my lap, or handle sitting for more than a few minutes at a time. It meant cancelling a family trip to Perth at the last minute. All in all, not the best time of my life.
Anyway, it's been a little better this week by dint of many back excercises and swimming and rest. Enough so that I agreed to go to watch the GCBlaze play on NYE, down at the GC convention centre. That's about an hour's drive each way. Knowing my back wouldn't handle all that sitting, I devised a crafty plan to lie in the back seat on the drive.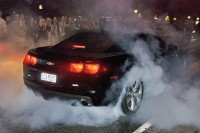 All was going swimmingly until, ten minutes short of our destination, the car blew up (literally – we were engulfed in smoke.) New Years Eve near Broadbeach … this is how it went. Waited an hour for the RACQ guy, who then rang the tow truck. Waited half hour for tow truck who took us to an all night servo in Miami. By this time we were late for the game but thought we'd go and try and catch a lift home with someone returning to Brisbane. Considered catching a taxi to the convention centre but couldn't get through to the taxi number. Waited an hour for bus (several went past us already full – about 7pm at this stage).
We were surrounded by other revellers, three of whom stood out. Fourteen, dressed like a cross between Snookie and the local GC sex workers. Heels so high they literally couldn't walk let alone negotiate curbs, not a cent between then, but a large bag filled with four bottles of booze. The thing that fascinated me was that they'ed totter off for a while then come back (clearly drinking in the shadows) and mill around us, discussing how they had no money to go anywhere. The bus finally came and I realised that they would spend their NYE at a Miami bus stop.
Anyhoo, the bus was lively and we got to the convention centre to discover barely anyone we knew there (very unusual), so no lift, we saw the last six minutes of the game and our team lost. We walked into Broadbeach, bought a kebab becuse it was the only food outlet without a thirty minute wait and hopped a cab to the Nerang train station from a taxi rank. Just missed the Brisbane train and waited an hour for the next. There was a very odd, older man hanging around the station dressed as a station guard – which he wasn't – playing with the machines and phones. Another interesting way to pass your NYE.
The train when it came, was a like the worst of Jersey Shore meets a young Prisoner. Holy crap it was feral! Again, the overriding sense was that most of the young ones were actually going to spend NYE on a train, trash talking and drinking grog from soft drink bottles, swearing at each other. It wasn't scary, or intimidating, more like a little shop of horrors.
Got to our interchange at 11 pm. Park Rd station was quietish but the (real) station guy told us he'd had an endless series of fights and people stealing from each other etc. He was out of his office sweeping the platform in between waves of people then would retire back to safety. We just missed our connecting train and waited another half hour – and the vending machine gobbled our money – no chocolate bar.
The final train leg home took an hour of which I stood most of it because my back had well and truly had enough.  A woman on the train gave us poppers then got off at a stop. We celebrated NY at Lota station with a girl on her way home from work. She looked up from her book and said "oops, I missed it."
Finally, our station and a ten minute walk home under a half moon, into a cool breeze and I collapsed on the bed with chocolate and a re-run of Sabrina the teenage witch. Nick took a glass of red wine and checked his email – because that's all you can really do after an evening like that. We'd left the car at the servo at 7pm, got home and 1pm. Jack Kerouac and Hunter S. eat your heart out!
So Happy New Year everyone! Hope yours was a little more … celebratory!
I've learned many things this year but mostly how to better appreciate family and friends. A special shout out to my MDP Staff. Our continued connection gives me much pleasure and sense of belonging. To my dearest, oldest friend Robyn Smith, who came to stay and cleaned, carried my shopping and treated me to to a pedicure because I was miserable and unable to do anything. To my Supanova family who provide me with life-nourishments (especially Missy and Fel). To my agent and friend Tara who keeps me positive, and doesn't let me get too self-absorbed. To my sister and brother who will always be my home-base. To my boys, for helping old Mazza by keeping me company and helping me get in and out of the car and bed and … everywhere. To my husband for putting on a splendid Xmas lunch without a whisper of help from me, and for carrying my handbag in front of a train full of foul-mouthed, drunken gits.
Love you all!