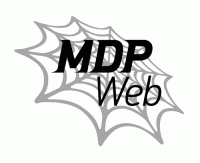 Red Carpet interviews by Joelene Pynnonen for MDPWeb and The Spotlight Report
Jupiters Casino was buzzing with energy last night as the stars took to the Red Carpet for the Gold Coast premiere of P.J. Hogan's new film Mental.
The venue was busier than expected with fans lining up to see stars, Anthony LaPaglia, Rebecca Gibney and Lily Sullivan. Plenty of local celebrities attended the event, among them, Surfer's Paradise band, Nine Sons of Dan and rockers Mental as Anything. Chai Romruen from the upcoming Secret of Mako Island was there for his first Red Carpet experience, along with co-star Ivy Latimer.
By the time the Mental cast arrived, fans had been gathered for close to an hour. They were not disappointed. Surrounded by the chatter of the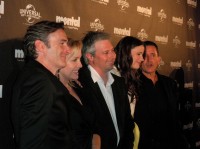 crowd and flashing lights, the stars were relaxed and affable. They signed autographs, gave interviews and posed for photos, smiling throughout.
Though the event was running a little behind, we managed to ask P.J. Hogan, Rebecca Gibney and Lily Sullivan a few questions about the film and what it meant to them.
Director, P.J. Hogan, was warm and approachable when discussing his passion for Australian cinema.
Spotlight Report: Obviously this story's is really getting back to the Australian culture and the Australian way of life. Why is that important to you?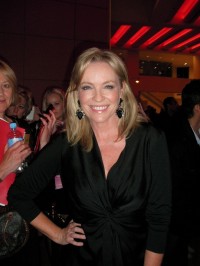 P.J. Hogan: Well, why isn't it important to you? I mean, we're Australian. I want to see Australian stories on screen. Especially comedy. I love Australian comedies, particularly if they're irreverent and truthful. Well, which I hope this film is.
 SR: You also have a tendency to involve incredibly strong female characters. Where does your inspiration for them come from?
 P.J. Hogan: Well, I grew up with sisters. A lot of them.
 SR: Older ones?
P.J. Hogan: No, I was the oldest, so I got to boss them around. You know, up to a point. Once any girl reaches seven you really are their slave. But what can I say; women really are a big part of my life.
Packed to the Rafters star, Rebecca Gibney was all smiles as she arrived. She has a gracious manner that immediately sets those around her at ease. We talked with her about the challenges she faced acting the part of the Moochmore matriarch.
SR: You've said before that this was one of your most challenging roles, in what way was that?
Rebecca Gibney: It really made me go to places that I haven't been to before. I'm playing a depressed mother of five so I have to so I had to go to some dark places. It was challenging, but wonderful.
SR. So was it that there was too much comfort in that or was it completely out of your comfort zone?
Rebecca Gibney: It was out of my comfort zone in the fact that P.J. Hogan is basically very specific to…Even if you think that you might have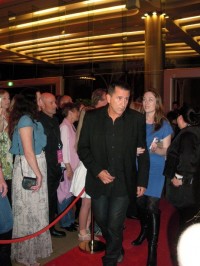 got it he'll say, 'no, do it again, do it again, do it again'. He'll make you do it a thousand different ways and, end of the day, it's the most fulfilling job.
Newcomer, Lily Sullivan, was very open and natural, joking and laughing with the media as she admitted that she was still new to all of this. Recounting her experience with the film, she was pensive without losing the humour that seemed to be a part of her.
SR. Was it daunting having so many big actors around you?
Lily Sullivan: Incredibly intimidating. Yeah, but amazing. What opportunities to have so many incredible talents.
SR. So not something you would do differently if you had it to do over again?
Lily Sullivan: Well, I think to think how I started and how I ended…I think I learnt so much over the process. I had basically four mentors; P.J., Rebecca, Toni and then Anthony. It was absolutely incredible.
SR. It's a really whacky movie so what was your favourite scene in filming?
Lily Sullivan: Ooh. This one's always really hard. Probably I would say the eating scenes because we got to eat solidly for about three hours, and it was a roast. I'm a massive fan of roast.
The cast went on to sign autographs and pose for pictures before attending a screening of the film.