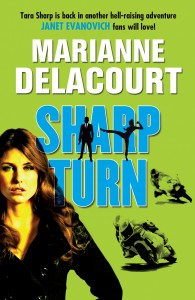 Tara Sharp is back in two more novels coming to you in 2012 and 2013. You can read all the details over at the Marianne Delacourt site. Needless to say I'm pretty excited about it!
Over at the Burn Bright site, were getting a bit crazy with only 12 days until the book is out. Over there you can see the photos of the staff with their special copies, and I've just updated the music page with the cover image for Yunyu's song, Angel Arias. I've been adding some reviews as they come in, and you can now read chapter one for free. Don't forget to tune into the podcast and listen to the premiere of Yunyu's amazing song.
Also, I've got a couple of events coming up:
*Victoria Point Library Event*:
"An evening with Marianne de Pierres"
Date: Thursday 31 March 2011
Time: 6 – 7pm
Venue: Victoria Point Library
Lakeside Shopping Centre
7 – 15 Bunker Road
Victoria Point
RSVP: Please call Anne on 3884 4011
And I'll be doing an online chat at ASFFWA soon. Would love your company!