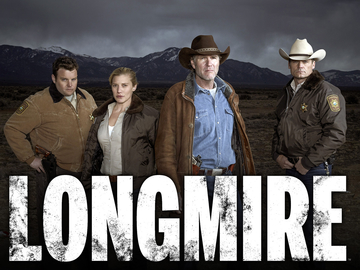 Having recently feasted upon modern day cowboy series Justified (I'm up to season 4), I was interested to see whether Longmire could steal my affections. However, Walt Longmire is definitely not Ralen Givens.
He's older, (occasionally) wiser, even more set in his ways, and twice as prickly. Walt is Ralen in ten or fifteen years time when life has kicked him around a bit more.
Longmire opens with some fairly standard country cop storylines and warms us into the characters slowly.
Right out of the gate though, the bolshy, displaced city cop role, fits Katee Sackoff like a glove. Bailey Chase (Saving Grace) gives deputy Branch Conolly's character some brooding depths, and Louanne Stephens (Friday Night Lights) as Ruby the dispatcher, is outstanding in whichever role she plays.
Lou Diamond Phillips portrays the character of Henry Standing Bear, Walt's best friend, and a man constantly trying to bridge the divide between the local townsfolk and the Native American community. Less interested in conciliation is (Zahn McClarnon) Chief Mathias of the Tribal Police on the Cheyene Reservation.
Because of the quality of these actors, I stayed through the first few episodes though I didn't feel that the stories matched their acting potential. With three episodes left to go in series one, Longmire felt like it hit a rhythm. The over-arcing storyline that explores the tensions between the Cheyenne reservation and the rest of Absaroka county is the most interesting aspect of the series so far.
Walt's grief after losing his wife and his battle against Branch to retain his position as Sheriff, also provides some inter-office conflict. And though Walt's friendship with Henry Standing Bear is the lynchpin relationship in the series, the real prize is the land.
Even on the small screen, the countryside (sadly not Wyoming, but California and New Mexico) dominates the series in the same way that Texas pervaded Friday Night Lights. I'm looking forward to season 2 to see where the writers and Aussie actor, Robert Taylor, takes Walt Longmire. The trailer (below) tells us there's a storm coming.  
Season 2