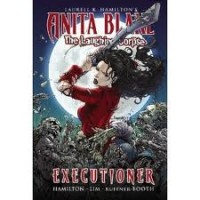 Executioner (Anita Blake, Vampire Hunter: The Laughing Corpse #3) by Laurell K. Hamilton, Ron Lim, Jess Ruffner-Booth
Current queen of the book charts and soon to be the star of her own television film, best-selling author Laurell K. Hamilton's vampire hunter continues to take comics by storm As The Laughing Corpse enters its haunting final act, Anita Blake thinks she has the deadly voodoo priestess who's made her life hell dead to rights… but the necromancer is about to find out her nightmare's only just begun Find out why everyone in America is talking about Anita Collects Anita Blake, Vampire Hunter: The Laughing Corpse – Executioner
#1-5 Hardcover, Graphic Novel, 112 pages Published June 9th 2010 by Marvel Comics (first published 2010)
ISBN  0785136347 (ISBN13: 9780785136347)
As Anita's problems begin to worsen, one dead body after another showing up. All the clues start pointing to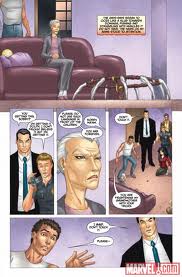 the Vaudun priestess. She is accused of a murder with possible proof, but then the proof disappears. She is a very magical being and recently Anita's been causing her some grief.  She decides it's finally time that Anita pays for causing her life so many problems…
Anita eventually gets trapped in the middle of the biggest mess of her life and taken hostage. There is a blob of zombie parts that have been molded together guarding her in the basement. She has to get past the guards who have weapons and take on a battle with this grotesque rotting corpse to get herself as well as the other hostages free.
In the end, we get to see Anita be the most powerful and truest form of Animator. She has to fight back with what she knows best; all out Zombie Apocalypse.
These are some of the best renditions of novels into graphic form I have come across. I love that that there is just as much dialogue to go along with the illustrations and full colored glossy pages.