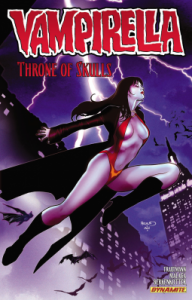 Reviewed by Krista McKeeth
by Jose Malaga, Dynamite Entertainment, Diamond Book Distributors
WELCOME TO THE END OF DAYS! 
A mysterious hijacking — by an undetectable force which leaves only death in its wake — lures Vampirella to Russia, and deeper into a deadly conspiracy where nothing is what it seems. At the request of Vampirella's allies — the Vatican's paranormal covert strike force, Cestus Dei — the blood-drinking scourge of the supernatural travels to Russia, on the hunt for a terrifying killer with a gift for murder.
But there's more at play than a simple search-and-destroy mission. Complicating matters is the return of the King of the Vampires, Dracula — more powerful than ever before, and determined to consecrate an unholy pact with ancient, unknowable forces that even the lords of Chaos and Order wisely fear.
War is on the horizon, and only one who has worn the Crown of Worms can sit upon a Throne of Skulls. Old foes are reborn, alliances are broken, and nothing in Vampirella's world will ever be the same!
Collecting issues #12-20 of the popular ongoing Vampirella series, with a complete cover gallery.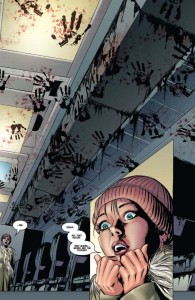 A scantily clad vampire detective is looking into the mystery of a plane full of humans cut into pieces and hidden in the cabin. It's total chaos. Vampirella heads to Russia to find the answers to what kind of creature would perpetrate such a massacre, and why …  
Traveling in underground caves as well as through the ruins of an old village, Vampirella must battle the evil Von Kriest, demons, as well as save a friend Sofia who has been possessed. There are many different layers to this story and intense and colorful graphics. Several different characters and demons come into play for a non-stop action packed story.
This is one of the most detailed graphic novels that I have read. So many things happen with well-rounded layering of stories that it would be a hard to convince anybody that this is not worth it's value. It's intense, bloody, fast paced and suspenseful.
As Vampirella is busy doing detective work, the people who have accompanied her on the trip get into situations of their own, adding to the drama.
Vampirella must endure an internal battle as well as the physical challenges she faces throughout the story, and with the return of Dracula, her vampire side is calling.
Marianne's comment: I haven't read this one, but I just wish they didn't have to portray female characters half naked. Why can't you be a sexy heroine with clothes on?