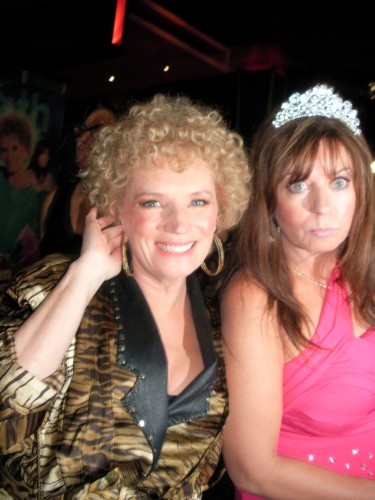 by Joelene Pynnonen and The Spotlight Report
Event Cinemas at Garden City was all glammed up on Thursday the 30th of August in preparation for the foxy ladies from Fountain Lakes. Hot pink balloons served as a guide up the staircase to where the crowd awaited. Even an hour and a half before the event the atmosphere was charged with subdued excitement that spiked a little with the arrival of every new Kath, Kim or Sharon look-alike.
 Fluffy blond perms and netball outfits abounded, as did skimpy frocks and outrageous bling. While the costumed fans waited for the stars they paraded on the red carpet. Having their photos taken by friends and media alike, they looked good enough to rival the real thing.
It was not to be. Kath, Kim and Sharon arrived amidst a chorus of cheers; dressed in their usual splendour. Their presence caused such a furore that for the first five minutes of their arrival, I could see no more than an occasional elbow from my place on the red carpet.
Despite the commotion, we did get the chance to speak to the Kath and Kimderella stars briefly. In her leopard-print onesie, Kath seemed well-qualified to point out the finer points of Italian culture.
SR. So you've had an all-girls holiday, how was that?
Kath: It was great! I mean Sharon and Kim aren't the best travelling companions, because Sharon's always sick and catching things and Kim is just a life-denying misery-guts. But I made the most of it. I tried to get away and have my down-time. A bit of me time.
SR. So how'd it go?
Kath: Oh, I just tried to run away from them as much as I could. But travel and me go hand-in-hand because I'm a very…I look around and I see.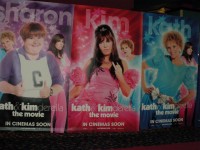 I'm very cultured. You know, I've done a lot of Tafe courses; I speak Italian, I've done art. In Rome we saw the Sixteenth Chapel, went to the Trevis fountain.  So we did the culture thing as well, so that's me.
SR. So as far as the speaking Italian thing goes, were there any language barriers?
Kath: I did learn 'neanco persono Jose', which means 'no way, Jose'. Because I got so many offers, you know.
Kim spoke of the difficulties faced by princesses like Kate Middleton and herself.
SR. Now we hear you've been having some lessons in being a princess. What would you say would be the most important one as far as that goes?
Kim: You know, I think being mean, I want to bring back capital punishment and 'Off with your head' because I want to say that as a princess. And I think K-Middy and me are on the same page with that one.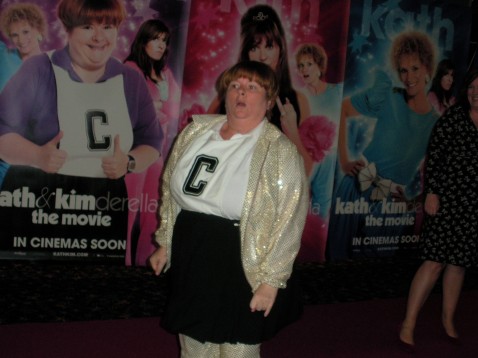 SR. Do you feel like maybe your rights are being violated because you don't get to say that on a regular basis?
Kim: Oh, that's right. I think people need more control. You know, I think people want – I think they want to be scared of their monarch so I think I'd be a pretty tough…Yeah, I'd be a tough monarch.
SR. What did you love most about Italy?
Kim: Well, I loved the guys 'cos they all loved me. We did travel a bit. We went to Trevis fountain, the Colosseum, the Sixteenth Chapel. Yeah, it was really noice.
SR. How did Brett feel about all this?
Kim: Oh, Brett was ropable. He was left at home.
While Kath and Kim had been giving interviews Sharon was wowing the crowd with her gold-sequined netball uniform, posing for photos and signing signatures. Eventually she was persuaded to abandon her fans for a very short interview.
SR. Now we're running a little bit late, so I'll just ask the question on everyone's mind. Holiday flings: did they happen?
Sharon: Ooh, look, I don't pash and tell. Let me just say I had a fantastic time in Italy. You'll have to watch the film to find out.
After some more photos, that was exactly what we did.