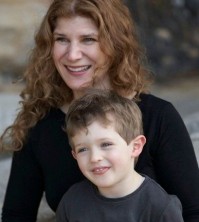 Joe graduated from The Australian Film Television and Radio School (AFTRS) in 2002 specializing in producing.  On graduation she won the Film Finance Corporations creative producer award and in 2003 was nominated for an Academy Award for the live action short film "Inja".  While at AFTRS she produced 8 short films all of which screened at festivals in Australia and/or overseas.
For the past four years she has been producing half hour comedy: "Pizza Series 5", "Pizza – Da Vinci Cup", "Pizza – World Cup" and "Swift and Shift Couriers 1 & 2" broadcast on Network SBS.  In 2008 she spent time developing a Massively Multimedia Online Game (MMO) before returning to Antichocko Productions and comedy.  Joe has several TV, multimedia and feature projects in development.
She is currently in post production on "Houso's" starring Amanda Keller, Ian Turpie and Paul Fenech.
1. How did you get involved in the film Peekaboo?
Damien Power, the writer/ director of 'Peekaboo', and I have been working together on his feature scripts for almost 6 years – I know this because I was pregnant with my eldest child Jacob when I first met Damien. He is now forever the measure of time. The script I shopped around, Savage, is a very well written, very violent, "Michael Heneke (esk)" feature film.   Difficult to sell at the moment I'm told due to its "bleak" subject matter and body count – what horror/thriller isn't a little bleak?  The feedback about the script was really good but neither Damien or I had current films circulating and we felt we needed a little heat on us to make a deal happen.  It was also a great opportunity to learn a bit about each other's work on something small before the long commitment to a feature film. In a nut shell we started making the short film over a year ago to help us fund Savage. And that is what I am doing now… heading out in search of private money.
2. What is your opinion on the current state of the Australia film industry?
The reason I'm looking at only private money says a bit about the state of the industry.  Australian films are not pulling big audiences at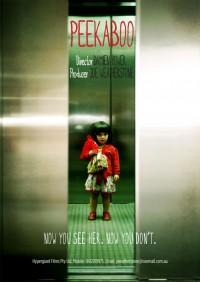 the local box office or overseas and they need to make over three times their budgets to see a dollar of profit for the investors.  There have been a couple of films doing well lately but I figure the lower the budget the better for our film. No matter what they say about "the state of the industry" I truly believe it is up to us to defy it – if you have a great story that is right for the current market somebody will back you. My biggest hurdle to date and probably why I haven't made a first feature –  and I suppose it's an industry problem –  is the limited pool of screenplay writers who are capable and interested in writing sci-fi, magical realism and high concept "what if" stories.
3. You come from a dynasty of film people, was it inevitable that you became a producer?
I would live anywhere in the world to work on great projects but Australia is an amazing place and I want my children to grow up here.  I was born in the UK to a Scottish mother and Aussie father so who knows where I will end up making films!  My father was a producer and sometimes director; he started in Canberra as a kids show host in the days when it was all live and the ads walked in from the wings of the studio.  He went to England with the equivalent of $200 and eventually got a job working in the BBC, making documentaries all over the world experiencing places remote and unheard of then.
Channel 7 poached him to return to Australia so we left the UK in 1975 and came to Sydney. Dad was a really good people-person and he taught me a lot about work ethic and the joy of life.  He grew up in a poor farming family near Gouldburn so had an amazing love for the land and a creative mind.  When dad lived in the UK he built himself a galvanized iron "den" outside so he could feel at home with the sound of the rain falling. He was always homesick for Australia.  Mum has been here for 35 years now and is still homesick for Scotland!  I tried really hard to be anything but a producer. I tried acting but alas I wasn't very good at it even though I loved it, and I was naturally drawn to organising other actors so in some ways it was inevitable.  My father died in 1994 and it was soon after this I started listening to his advice and got a real job in production.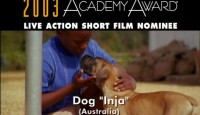 4. Tell us about your involvement with the Academy Award nominated short film Inja.
With Inja being nominated for an Oscar, Steve Pasvolsky (director) and I had the experience of a film really connecting with an audience, and there is nothing like it – in any art-form. Being nominated was surreal, unexpected, incredibly exciting and quite scary all at once. And it was a touch ridiculous! I wasn't really ready to take career advantage of the nomination being straight from film school unfortunately so I spent most of my time stressed that I had to dress up. I like to look like a horse person most of the time, jeans, boots and a tshirt and I had a bit of frock shock.  In true LA style I was taken to a hotel with levels of designers and their dresses, jewellery and shoes.  I sat next to A class actors getting my hair and makeup done feeling like a complete fraud.  They announced the commencement of war while I got my nails painted by a little Thai woman, and on the night our car was checked for bombs as we entered the closed off downtown block.  Steve and I survived the night trembling slightly, surrounded by film royalty and I now feel so incredibly lucky to have experienced it.  I hope it was a trial run because it would mean I have produced more great work!
"Peekaboo" our short film has been great fun and hard work, I can only hope that it now finds an audience to love it too.