My mate and bestselling author Jenny Fallon is gradually getting her writers' centre underway. Visit the website and investigate her online mentorships.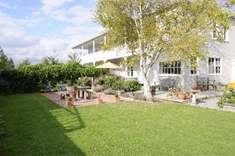 From Jenny's website: Built in 1915, the historic Reynox House – located in the centre of NZ's arts hub, Oxford – has been a guest house, a shop, a gallery and the location for a TV makeover show.
In the 21st century it has a new, exciting purpose, as a centre of inspiration for writers the world over.
Now owned by author Jennifer Fallon and her family, Reynox House will host residential writers' retreats each year, catering for up to 10 writers.
Each 7 day retreat comprises daily lectures by international bestselling authors, time to write in the most glorious and inspirational surroundings, a chance to solicialise with other authors, both published and yet-to-be-published, and, if your manuscript is ready for submission, maybe even a chance to pitch your work to industry professionals.
The Writers Centre will also be undertaking a series of online seminars and casual workshops and Master Classes in conjunction with Supanova in Australia
Please email us at admin@reynoxwritersretreat.com if you are interested in attending or just wish to be kept updated about the online seminar details.