As you know I love my TV series, and have started giving regular recommendations. So here is the latest.
I've stumbled on another Canadian TV show called Intelligence, which was pretty exyy but thanks to a lovely JBHIFI gift voucher (winks at Paula), I didn't feel too guilty buying it. It's set in Vancouver and follows two main characters; a mobster and an intelligence officer as they navigate the hazards and politics of their respective worlds, on occasions working together.
I'd have to say, without a doubt, it's the mostly tightly plotted show I've ever watched and the characters were thoroughly convincing. I'm close to giving it a 9/10 (which puts it up there on my scale with Saving Grace, and it is, in some ways, better). WIKI suggests it might have been cancelled after season 2 because:
There were various rumors surrounding the cancellation of the series. Kevin Baker from The National Post alleged: "There's a theory afloat that CBC Television cancelled the unusually good drama Intelligence in fear of upsetting Canada's New Government, which is thought to be slavering for an excuse to junk the nation's public broadcaster and sell off the parts."[3]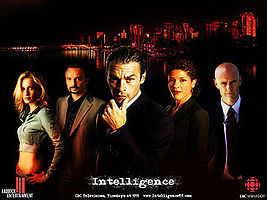 Interesting, because similar rumours existed around the cancelling of The Border, another Canadian TV show that was not favourable in its slant on US intelligence agencies.
Anyhoo, it is quite brilliant, and I'm so glad I found it. I think its an absolute gem, and I'll be stalking the writers to see what else they do. Matt Frewer is creepy and disgusting, and Ian Tracey, Klea Scott and John Cassini are brilliant with a strong supporting cast.
I'm just ordering season 2 from Amazon and will give you an update on that.