Reviewed by Bec Stafford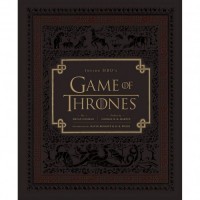 Inside HBO's Game of Thrones – by Bryan Cogman (with Preface by George R. R. Martin.)
Published by  Gollancz on 27 September, 2012.
192 Pages. ISBN 13: 9780575093140 ISBN 10: 0575093145
A feast for the eyes, this lushly bound guide to cable's highest-rated series has been released *just* in time for Christmas. If I didn't already have a copy in my hot little hands, it'd most definitely be on my wish list. At 192 pages, this padded, debossed hardback is a substantial, comprehensive guide to the smash small screen adaptation of George R. R. Martin's popular A Song of Fire and Ice series. Martin, in fact, provides the insightful preface, describing the initial reservations (and subsequent delight) he felt about the ambitious TV production.
Written by scriptwriter, Bryan Cogman, Inside HBO's Game of Thrones offers a riveting behind-the-scenes view of the blood, sweat, and tears that go into the making of this lavish series. And it seems fitting that such an epic production would be accompanied by an equally extravagant companion publication.
Organised into five major sections, based on geography (namely: The Wall; Winterfell; King's Landing; Westeros, and Essos), the book features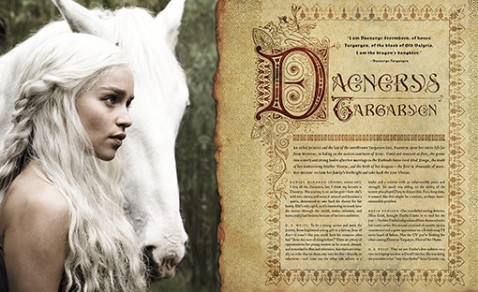 gorgeous photos, set and costume design, concept art, and facts about key characters. Fans of the series will delight in the first-hand information provided by cast, crew, and executive producers, including D. B. Weiss and David Benioff.  Among the book's most satisfying elements are the candid and revealing character interview snippets from the producers and cast members (including, pleasingly, some of the intriguing minor players). There are some truly beautiful costume sketches (I would've personally liked to see even more of these) and details about location choice and set design. If your mind isn't blown by all the detail and insider info, the incredible action shots, stills, and behind-the-scenes snaps will seal the deal.
There's even a fun section at the back of the book, entitled 'A Game of Pranks' that details some inside jokes the producers pulled on a couple of central cast members. Aside from the enormous effort and vision that it took to achieve this stunningly successful series, the book gives you a real sense of the cast, crew, and creators' sense of playfulness and creativity. For anyone in need of clarification of the various houses, there are also handy, illustrated guides to each, including lineage, home kingdom, motto, and a brief history. Finally, all the info and imagery has been presented in extraordinarily lovely typography, design, and binding. If you have a Game of Thrones fan in the household, I can heartily recommend Inside HBO's Game of Thrones as a stellar gift idea that will provide hours of blissful escapism. Book Depository's current price tag of only $30-odd is a steal, to boot.