Most of you know that I do rather like my TV these days. It's taken over what used to be a passion for film. So I thought I'd share some of my latest favourites with you and say why they appeal. Then it's your turn!
Spirited: an Aussie series about a middle-aged female dentist who can see ghosts, and falls in love with one. This appeals to me on a number of levels. There's the romantic comedy hook, but for me its largely the dialogue which I think is brilliant – so authentic and not at all cliched. Some excellent characters, especially Suzie's sister, Jonquil, and her ex hubby, Steve. Occasionally an episode will get a bit slow, but usually something nasty will usually happen to shake it up, soon after. This is some of Claudia Karvan's best work. I've always found her quite 'cool' (as in cold) on screen and Suzie's character fits her really well. Matt King is also a perfect dead rocker.
Zen: a three part cop series based on Michael Dibin's Aurelio Zen novels set in Italy. Love, love, loved this one! So sad they've only made 3 episodes. The political machinations and the corrupt pollice are beautifully counterbalanced by Zen's (Rupert Sewell) quiet but devilish humour as he walks a tightrope trying to keep his job and reputation in tact. Location filming is sensational, theme music not so. Caterina Murino is both beautiful, sexy, confused and selfish all at once. Great acting on the part of both main characters, I thought.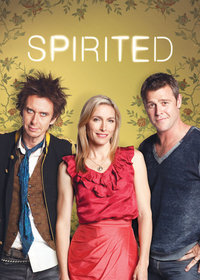 Luther: Am only two episodes into this series penned by Neil Cross. Idris Elba (The Wire) is a strong and charismatic actor and the stories are suitably twisted. The dialogue gets a little clever for itself sometimes, and Idris is altogether too brilliant at joining the dots on crimes, but I like its energy and Luther's tortured character.
True Blood: what can I say that millions of fans haven't? Nothing really, other than to add … if Joss is Boss then Ball is Better … ok, maybe not better, but certainly as good. Thumbs up for casting Alex Skarsgaard too. This is backwoods melodrama at its most vulgar and raunchy with some sly social commentary thrown in.
Fringe: I love Fringe but sometimes it bothers me because none of the concepts are particularly fresh to this SF writer (me). When I get past that though, I love the characterisation – I mean, you'd have to be comatose not to appreciate the talent of John Noble, Anna Torv and Joshua Jackson. Leonard Nimoy, however, doesn't really work so well.
Leverage: The stories are cute and the chemistry among the team is really fantastic. Who wouldn't want to be Parker? I once saw an interview with Beth Riesgraf and Aldis Hodge (Hardison). They were asked who, out of all of them, was most like their portrayed character. They agreed instantly that it was Christian Kane. How cool – Eliot rules!